Wes Moore knows higher education, as a Rhodes Scholar and Johns Hopkins graduate who founded BridgeEdU, a national initiative focusing on addressing the college completion crisis.
Wes Moore also knows accountability, as a decorated Army combat veteran, White House fellow, youth advocate, best-selling author, and executive producer of PBS documentaries like "All the Difference," which follows two African-American teens from the South Side of Chicago on their college journey.
(See photos from the event.)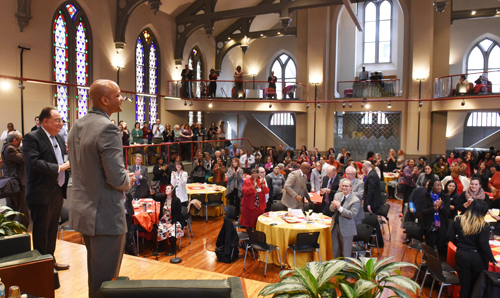 And since it was Valentine's Day, Moore spoke from the heart discussing "Responsible Citizenship & the Real-Life Ramifications" as the fifth speaker in the University of Maryland, Baltimore (UMB) Core Values Speaker Series.
Integrity is crucial in leadership. Higher education isn't just what you learn but who you're learning it from and who you're learning it with. There is no Plan B for safe communities. If you don't understand the macro you can't mourn the micro.
These were just a few of the insights provided by Moore to a UMB audience of 200-plus at Westminster Hall on Feb. 14. He was joined onstage by UMB President Jay A. Perman, MD, who introduced the speaker by saying "he has been an incredibly good friend to this city, to this University, and to me personally." Perman, playing the role of TV host, then sat in a plush chair opposite Moore, and asked questions like:
What does accountability mean to you?
To whom do you hold yourself accountable?
How does higher education help to build accountability?
As a community, how can we be more accountable to each other?
In discussing the core value of accountability, Moore said choosing friends wisely is the first step, something he learned the hard way growing up. "Not everybody is your friend," he told the audience. "My definition of friend changed as an adult. A friend is someone who wants nothing but the best for you in all cases."
Family is also key. "When I think about accountability I think of my kids," said Moore. "I have a 5-year-old daughter, who is my heart. And I have a 3-year-old son, who is my soul. And one of the things I say to them is there is nothing I want them to be. There are certain things they cannot be," Moore added, drawing a laugh from the crowd. "I tell them I want you to understand the world doesn't revolve around you, but the world doesn't exist without you. I want you to be accomplished and happy and free."
Higher Education Is Foundation
Moore showed why he is such a popular speaker nationwide by holding the large crowd in rapt attention with his stories and advice.
Speaking to a room of University faculty, staff, and students, he said higher education has to be not just at the table but at the head of the table. He likened all his experiences to a home built on stilts. "You can knock out the military stilt and the house may wobble but it won't fall. Same for the financial stilt. But there is one thing that if you chop it out everything would fall and that's because it's really not a stilt but a foundation. And that is higher education."
He said higher education gave him a sense of psychological confidence, of belonging. "There is nowhere I go where I need permission. There isn't a single place I go that I feel that I'm there due to someone's benevolence. Or someone's kindness. Or someone's social experiment or because someone believes in inclusion. I belong and no one can take that away from me. And that matters."
An advocate for equality, opportunity, and accountability, Moore said there is no Plan B to improve communities. "If you really want to live in a community that is safe and prosperous you better make sure that EVERYBODY is safe and prosperous."
He mentioned leaders from Patriots coach Bill Belichick to Martin Luther King Jr. and said there aren't military leaders or political leaders or sports leaders. There are just leaders. "Leadership is not about making everyone like you," Moore said with Perman voicing his agreement. "It's about putting them in a better place to succeed."
Challenge of BridgeEdU
Which is what Moore is trying to do with BridgeEdU, which reinvents the freshman year of college. Fewer and fewer people who begin college are finishing, due to a number of obstacles, Moore said. Finances, being academically unprepared, and not feeling socially comfortable are three of them. Maybe they are the first in their family to go to college and the transition is very complicated.
"They need a different type of onboarding. A better support system," Moore said. "We call our students scholars. A student is someone in college. A scholar is someone who knows why he or she is there. So we want to help scholars."
Early results are encouraging. A group of 75 scholars at Coppin State who were accepted only because of BridgeEdU have flourished grade-wise. But many challenges remain, Moore telling the story of a man who missed back-to-back classes, raising a red flag at BridgeEdU, because he didn't have the money for a bus pass. "It's never acceptable for someone to drop out of school because the student couldn't afford a bus pass," Moore told the sympathetic crowd.
Environment Vs. Expectations
He thanked UMB for the support it has shown to BridgeEdU and recalled his first best-selling book The Other Wes Moore about how two kids with the same name grew up fatherless in similar Baltimore neighborhoods but met different fates … one as a White House fellow; the other in prison for murder.
"Wes is now in year 16 of a life sentence at Jessup," Moore said of his namesake. He recounted asking the prisoner if both of them were products of their environments, which in the speaker's case included military school and guidance. "Actually I think we are products of our expectations," the prisoner told Moore, who remarked to the Westminster Hall crowd, "We both wound up exactly where we thought we would."
So, in closing, Moore said we are "products of our expectations, not of our environments. We can change our structures and our laws but we also must change our psychology. Because frankly there are those born into lower expectations than ours. Because of how they look. Because of what their sex is. Because of their family image. We cannot continue to let people be defined by (a) the things they're not responsible for or (b) the things they should not be ashamed of. … When people say what exactly do you do, my answer is simple: I teach freedom."
Learn more about the UMB Core Values Speaker Series.