The President's Fellows and the Office of Interprofessional Student Learning & Service Initiatives (ISLSI) welcomed Suzanne Sysko Clough, MD, to the University of Maryland, Baltimore (UMB) on Feb. 9. Her remarks were part of the President's Symposium & White Paper Project speaker series, which is focusing on entrepreneurship during the 2016-2017 academic year.
(View a photo gallery.)
"We have to do more for students than just the day-in, day-out curriculum," Clough told the fellows and other students during the program. "We have to get people to be not only better critical thinkers but we have to help them innovate to solve day-to-day business problems just to stay afloat, especially in medicine."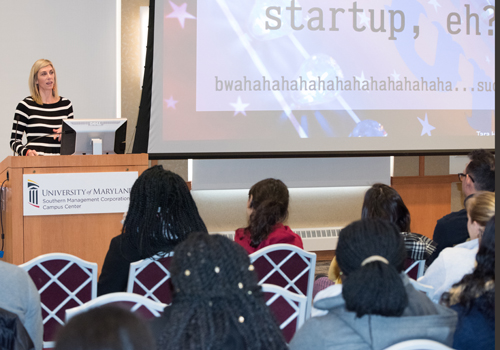 One reason for her assertion: the rapid pace of change in the delivery of health care.
Clough mentioned the Medicare Access and CHIP Reauthorization Act of 2015, which she said appears to be secure even in the new administration because of its wide bipartisan support. "We are finally going from what has been referred to as volume-based care…to value-based care."
She said policymakers and practitioners are being challenged to innovate the entire health care system as the message becomes, "We are going to start looking at outcomes; we are going to start paying you for value."
The focused teaching of a robust entrepreneurship curriculum in graduate and professional studies has historically been limited to graduate programs of entrepreneurship. In her remarks, Clough shared her views on why teaching entrepreneurship should be a staple in all graduate studies programs, especially those in the life sciences.
Clough focused on medicine given her own background. An alumna of the University of Maryland School of Medicine (UMSOM), she was at UMB for 12 years before leaving her endocrinology and diabetes practice in 2006. As a co-founder of WellDoc, Inc., she became its chief medical officer.
While at WellDoc, Clough was instrumental in informing the design of the algorithms and the clinical and behavioral architecture of WellDoc's Food and Drug Administration-cleared software platform. Its goal is to address the unmet needs in both patient self-management education and physician clinical decision support. Clough left WellDoc in March 2016 and co-founded RAS Digital Health, LLC., a digital health consulting firm that supports startups and Fortune 500 companies in building out their digital health strategies.
"What I implore universities," she said, "is that as physicians, as biologists, as behaviorists, we have got to be in on this. We can't let technologists build technology just for the sake of building technology because it never works." To be effective, Clough said, "there has to be a marriage of technology and the background that folks in life sciences have." And for that to happen, she added, newly minted professionals must be equipped with skills and knowledge that allow them "to jump in and get in the mix."
How best to encourage that type of entrepreneurial spirit at UMB is the topic of this year's white paper. The fellows are Chinonye "Donna" Egbulem, a School of Social Work student who is in her final year of the dual degree Master's in Social Work/Master's in Public Health; Anna Hung, PharmD, a doctoral student in the Pharmaceutical Health Services Research program at the University of Maryland School of Pharmacy; Benjamin Portney, a doctoral student in the UMSOM Department of Biochemistry and Molecular Biology and Camilo Vanegas, a doctoral student in molecular medicine in the UMSOM Graduate Program in Life Sciences.
Vanegas was among those who took to the microphone during a question-and-answer session with Clough. He said that as a fourth-year PhD candidate, he knows many students who aren't allowed to do entrepreneurial activities because their principal investigators want them in the lab. "It's not just a frown; it's a 'no,'" he said.
Yet the selection of the topic, "Entrepreneurial Exploration and Education" shows the University is "definitely trying to change that outlook," Vanegas said.
The next symposium in the series on entrepreneurship will take place March 9 at 4 p.m. at the Southern Management Corporation Campus Center. James Hughes, MBA, chief enterprise and economic development officer and vice president, will speak on "UMB's Entrepreneurial Future." Among other things, he will discuss plans for UMB start-ups in a new student-focused innovation center in the University of Maryland BioPark.
Hughes will be joined by Rana Quraishi, PhD, director of new ventures, and Darryl L. Carter, MD, a UM Ventures entrepreneur in residence, who will share case studies of recent entrepreneurial projects by UMB students.
On April 3 at 4 p.m., the interdisciplinary group of president's fellows will present their findings on entrepreneurship . Previous fellows explored topics such as civility and cultural competence, and ISLSI maintains an archive of their white papers.