See video on YouTube; National Law Journal article on keynote
The growth of the internet and the ubiquity of smart phones and social media have transformed life and the law in America, according to experts gathered for a recent cyberlaw symposium organized by the University of Maryland Francis King Carey School of Law and its Maryland Law Review.
The symposium, "The State of Cyberlaw: Security and Privacy in the Digital Age," received a grant from Microsoft Inc. Panels examined topics such as what the law can and should do to respond to pressing consumer privacy concerns, and what companies should do to protect consumers and safeguard their crucial freedoms. Discussions also examined how surveillance technologies affect society's expectations of privacy and challenge legal protections, including Fourth Amendment rights. Panelists also considered the roles of various institutions in handling contemporary privacy and security problems.
The Maryland Law Review, first published in 1936, is the oldest journal at the University of Maryland School of Law and is a highly regarded student authority on Maryland case law. Maryland Carey Law students Hannah Cole-Chu, editor-in-chief of the law review, and Joshua T. Carback, executive symposium/articles editor of the law review, organized the symposium.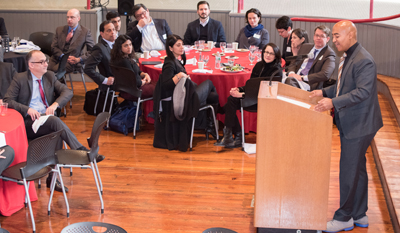 The event featured keynote speaker Travis LeBlanc, LLM, JD, MPA, AB, former chief of the Enforcement Bureau of the Federal Communications Commission (FCC). Other distinguished speakers included Maryland Carey Law faculty members Danielle Citron, JD, professor of law, an information privacy and civil rights expert; criminal law and constitutional scholar David Gray, PhD, JD, MA, professor of law; and adjunct faculty member Markus Rauschecker, JD, cybersecurity program manager for the University of Maryland Center for Health and Homeland Security.
"Maryland Carey Law is a leader among law schools in the fields of cybersecurity and privacy," said Dean Donald B. Tobin, JD, as he opened the symposium. The law school employs distinguished faculty such as Citron, Gray, Rauschecker, and others, and its Center for Health and Homeland Security is celebrating its 15th year, he noted. Additionally, Maryland Carey Law's JD and LLM students can earn a certificate in cybersecurity, and it offers two online masters of science degrees -- one in cybersecurity law and the other in crisis management and homeland security law.
"You have come to the right place for an informed, enlightening conversation among our panelists — a terrific group of thought leaders, advocates, federal officials, and practitioners," Tobin said.
LeBlanc, who worked for mobile privacy regulations in his tenure at the FCC and as a special assistant attorney general of California, spoke about the privacy concerns raised by the so-called "Internet of Things." "Everything from your smart phone to your toaster and even your toothbrush and hairbrush now come able to be connected to the internet," he said. "It is predicted that by 2020 there will be 50 billion devices connected to the internet – that's billion with a 'b.'"
All these devices, LeBlanc said, can be vulnerable to hacking. What if a device as potentially dangerous as an internet-enabled car or pacemaker was hacked? A big part of keeping consumers safe is ensuring that they are informed of the risks of their devices, he explained. Consumers need to understand when a simple update could keep make a device safer, as well as when the device needs to be replaced by a newer version or eliminated altogether.
The law plays an important role in keeping consumers informed, in encouraging industry to be responsible, in preventing hacks and "holding those accountable who engage in such attacks," LeBlanc said. The future holds great potential risk and benefits in "a whole new world … where eventually everything will be able to be connected," he said.
"It would be a travesty for these great benefits to not be realized because we all failed to pay attention to the very real and very serious privacy and security issues that growing interconnectedness presents," LeBlanc said. "We are at the forefront of a very exciting new reality, and it is on all of us to work together and ensure that we do all we can now to guarantee safety and security for the future."