Students and faculty of the University of Maryland School of Dentistry (UMSOD) welcomed sixth- and seventh-graders to the school on Saturday, Feb. 18, for the UMB CURE Oral Health Promotion to prevent tooth decay followed by educational activities for UMB CURE Scholars and their parents.
(View a photo gallery.)
Tooth decay is the single most common chronic childhood disease. Preventative measures include fluoride treatments and dental sealants. Children received free oral examinations and oral hygiene instructions and also engaged in healthy food discussions.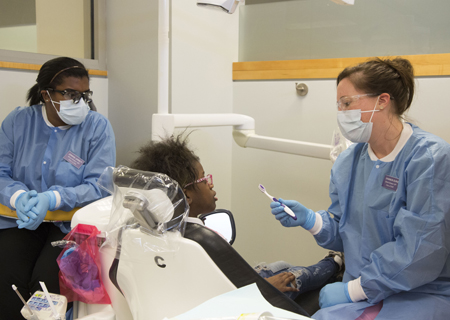 Dental sealants are thin plastic coatings applied to the grooves on the chewing surfaces of the back teeth. Most tooth decay in children occurs on these surfaces. Sealants prevent tooth decay by keeping bacteria and food particles out of these grooves. Fourteen CURE Scholars received sealants.
Mark Reynolds, DDS, PhD, dean and professor, welcomed the group on Feb. 18 along with Leila H. Liberman, RDH, MDE, clinical instructor in the Department of Periodontics at UMSOD. (View a video below.)
"We are all very proud of the UMB CURE Scholars," said Reynolds, referring to recent remarks at the University of Maryland, Baltimore (UMB) by Wes Moore. The author and founder of BridgeEdU had drawn a distinction between scholars and students.
"You indeed are true scholars, in that you learn everything with passion and purposefulness," Reynolds told the group.
"We hope that you'll be inspired to take a look at oral health care as a career path and as a way of being a service to your community," he said. "Your dentist and dental hygienist can be very important in helping to identify problems that may need care by other providers."
In talking about the importance of oral health, Reynolds asked for a show of hands and was pleased to see that the youngsters had grasped its relation to a person's overall health. Similarly, when Liberman rose to talk about sealants, she invited one of the Scholars to the podium to share his definition. He got a round of applause.
Parents accompanied their children to the exams, which were conducted by UMSOD students and supervising faculty members from several departments and divisions within the school.
After the exams, parents were offered a workshop on workforce opportunities available through the Community Engagement Center in UMB's Office of Community Engagement (OCE). Lisa Rawlings, MBA, OCE's director of workforce initiatives, was accompanied by a parent of a CURE Scholar, Aiysha Harris. Together they described the collaborative process that led to Harris getting a job at the University.
The event marked a return to the UMSOD for the seventh-graders in the UMB CURE Scholars Program, which is supported by the National Cancer Institute's Continuing Umbrella of Research Experiences (CURE) Program.
UMB's pipeline initiative identifies promising middle school students and prepares them for health care and research careers through mentorship and hands-on workshops and lab experiences. Last summer, a series of enrichment activities at UMB concluded with Planet Smilez: Discovering Dentistry Camp.
UMSOD student Kathryn Pawlak, the founder of the nonprofit organization Planet Smilez, once again engaged with the Scholars as an organizer of the Feb. 18 event, along with organizer Michelle Tarr, a senior in dental hygiene at UMSOD who expects to begin studies next fall to become a dentist.
UMB CURE Executive Director Robin Saunders, EdD, MS, expressed gratitude to the UMSOD for its continuing strong support.