The deadly bacteria Clostridium difficile claims the lives of 14,000 people each year in the U.S. alone and causes more than $1 billion in related health care costs. A researcher at the School of Dentistry (UMSOD) is closing in on a potential treatment for this superbug.
Hanping Feng, PhD, associate professor in the Department of Microbial Pathogenesis, is a leading expert in studying the pathogenesis of C. difficile infection and developing novel immune interventions against this disease. Feng's lab has already developed potent antibodies and vaccines to fight against C. difficile infection; and now one of their recent research achievements sheds light on new approaches.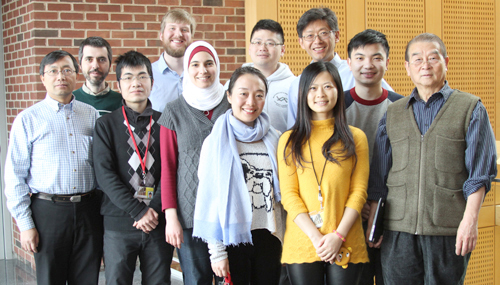 In collaboration with colleagues in China, Feng's lab recently published a paper in the journal Cell Research titled "Chondroitin sulfate proteoglycan 4 functions as the cellular receptor for Clostridium difficile toxin B." The paper describes their discovery of the role a cellular receptor, chondroitin sulfate proteoglycan 4, plays in allowing toxins from C. difficile bacteria to enter human cells. "In order for the toxin to interact with the host, they have to bind with some molecule[s] on the cells," Feng explains. "If we can conclusively identify this receptor, we will be able to better understand how this bacteria interacts with the host and, ultimately, design therapies to block that interaction."
Despite the prevalence and severity of C. difficile infections, researchers still have a limited understanding of how this bacteria functions on a cellular level. The host cellular receptors for the toxin TcdB, one of the major virulence factors of the superbug, have never been described before. This topic is of critical importance, Feng says, since emerging hypervirulant, antibiotic-resistant C. difficile strains cause severe infections in patients who are taking antibiotics. "The incidence and severity of this disease has been rapidly increasing since the year 2000, but treatment strategies have lagged behind," says Feng.
By collaborating with colleagues around the world, Feng hopes to uncover the mechanisms involved during a C. difficile infection. Feng's lab, which was the first to generate genetically engineered TcdB, worked closely with Chinese scientists who have expertise conducting genetic screening and identified the first potential cellular receptor for this major C. difficile toxin.
Armed with this new discovery, the researchers will turn their focus to the receptor's role in the pathogenesis of C. difficile infections. Their work could potentially lead to the development of a new treatment or vaccine for this deadly bacterial infection. "Our ultimate goal is to improve the public health and reduce the disease-associated costs," Feng says.