With careful hands and intense eyes, groups of students methodically moved dominoes across desktops in a University of Maryland School of Nursing (UMSON) classroom on a recent afternoon.
While a classroom visitor might think he was witnessing a study break using a childhood game for fun, what was actually taking place was what educators call a "closed loop communication activity." In this case, the students used the multicolored dotted tiles to learn an extremely important lesson: how to effectively communicate with one another.
(View video below.)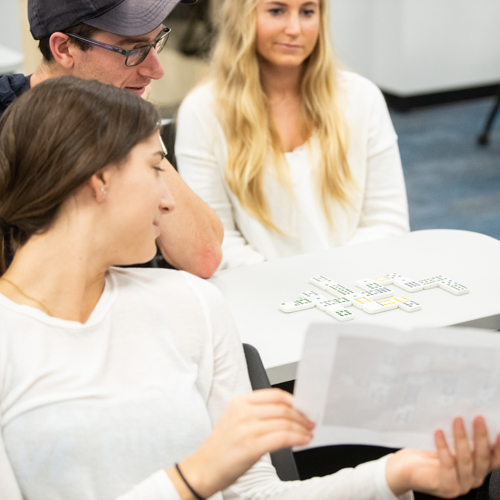 Welcome to Foundations of IPE (interprofessional education), a mandatory course for students studying nursing, dentistry, medicine, physical therapy, and pharmacy at the University of Maryland, Baltimore (UMB). Students learn about each profession's role in team-based care and how to work together to improve patient care. (Students in the schools of social work and law follow a required program of their own.)
"The thing with interdisciplinary learning is each discipline comes from a different perspective, and the point of this, in these teams, they're already divided into different disciplines," said Jackie Bateman, DNP, RN, CHPN, CNEcl, from UMSON, who was teaching the dominoes exercise. "We have dental, medicine, nursing, physical therapy, and pharmacy. So they're learning how to communicate in a basic activity now, putting together dominoes in a set design versus being over top of a patient in a critical situation."
Foundations of IPE, required for the first time this academic year, consists of two modules in the fall and two in the spring and brings interprofessional education concepts to life. IPE has been a priority during the 10-year tenure of UMB President Jay A. Perman, MD.
Currently, 940 students are enrolled in the course, according to Heather Congdon, Pharm D, CACP, CDE, assistant dean for the School of Pharmacy at the Universities at Shady Grove and co-director for the UMB Center for Professional Education. "We are assessing the class through a pre- and post-validated assessment tool," she said.
For the domino exercise, student teams took turns replicating a particular domino configuration based on given instructions with and without feedback. One student was assigned to build the diagram, two students to describe the diagram, and one student to observe. "Describers" are asked to explain the diagram to the "builders," who must replicate it without looking at the diagram itself. "Builders" can't ask questions or get any feedback from "describers." After a five-minute limit, everyone looks at the diagrams and compares their designs. The exercise is repeated as the students switch roles from "describer" to "builder." This time, "builders" are provided feedback as they attempt to assemble the domino formation without looking at the diagram. They can ask questions and then correct their design based on input they receive from students playing the role of "observer."
"Trust me, it's fun," Bateman said as she handed out plastic baggies of dominoes and diagrams.
With the start of the exercise announced, Meya Ngundam, a pharmacy student, held the diagram in her hands as she called out directions to medical school student Sasha Lenus.
"Six yellow dots. You want that one to be right next to the left side of the four black dots," Ngundam instructed as Lenus listened carefully.
"There were times I didn't understand what she was telling me, and it was hard not to be able to ask questions," Lenus said after the exercise.
Dentistry students Shereen Nowrouzi and Mazen Nour Ahmed also participated.
"I think it's important to learn how to communicate no matter what field you are in, Ahmed said.
In another breakout session, students where shown a PowerPoint presentation depicting a "Room of Horrors," in which they had to point out errors in photos showing hospital rooms and other health care settings and discuss how they would bring these errors to the attention of their colleagues. The photos showed things that would make a health care provider frown, such as an unsecured oxygen tank, food wrappers strewn about, a lowered bedside railing, dirty gloves on the bed, a chart opened showing secure patient information and violating the patient's privacy, a container of urine on a bedside table, and a health care provider working without gloves.
"When you work in health care and you walk into different settings, you're going to see stuff that you're like, 'What is that? And why is that there?'" Bateman told the class. "And then you're going to have to use your communication skills to professionally go and talk to those other people about why is that there without going, 'What is your problem?' And not showing any attitude. So, it can be difficult."
Earlier that afternoon, the class kicked off in the UMSON Auditorium, where Norman F. Retener, MD, assistant professor at the School of Medicine, shared a presentation on interprofessional team communication.
Research has suggested that poor communication in health care settings can lead to unanticipated events resulting in death or serious injury, he said.
Effective communication is complete, clear, brief, and timely, he said. One effective method is the "two-challenge rule," Retener explained.
"If there is something that revolves around patient safety that you think it's absolutely imperative that whoever's listening hears it, then say it twice," he said. " And particularly in high-stress situations. Sometimes the person who's listening might not hear. So, if it's important enough to bring it up, just make sure you bring it up twice to make sure that you're heard."
Retener also advised students on how to handle a situation in which a disagreement arises between two people.
"Stop arguing for a second and really just listen to what the other person is saying," he said. "Recognize that critique is not criticism. For a lot of us, that's hard. A lot of us are in professions where it took us a lot to get where we are. And so when someone criticizes, you take it personally, but recognize that critique is not always criticism, and focus on what is right for the patient, not who is right."