Students and staff from the University of Maryland School of Social Work (SSW) braved the bitter cold as they volunteered on a Team Build for Habitat for Humanity of the Chesapeake, helping to build a home in West Baltimore.
"The School of Social Work has established a terrific annual tradition of helping to build a home in West Baltimore with the guidance of Habitat for Humanity of the Chesapeake," said SSW Dean Richard P. Barth, PhD, MSW, who was among the volunteers participating at the site on Presstman Street in the Sandtown-Winchester neighborhood on Dec. 15. View a photo gallery.
"While many of our colleagues are providing direct services or doing research in West Baltimore, we also think it's important for others of us, in more administrative or in student roles, to make a direct contribution," he said. "We did that by pounding nails last year and this year by putting mortar to strengthen very old brick rowhouse walls in Sandtown-Winchester."
The experience also creates a connection among students, staff and administrators "that arises from sharing in blisters, very cold fingers or toes, and many groans and laughs," Barth said. "We look forward to going back out to Presstman Street to see this home when it is dedicated and to meet the thrilled owner."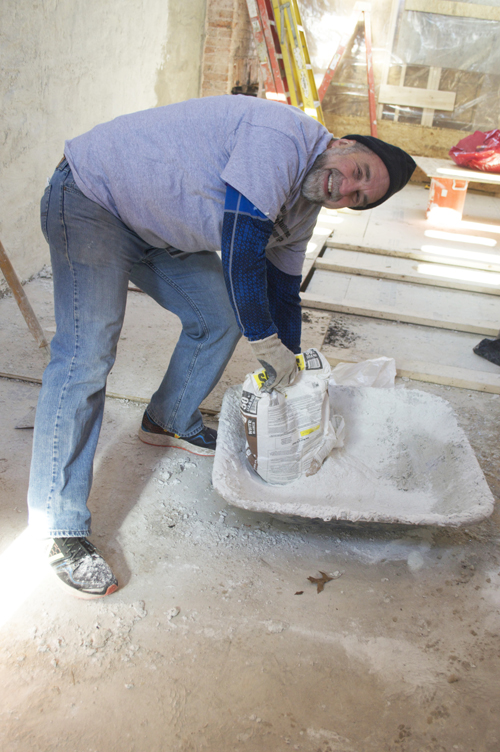 Last year, SSW students and staff helped by framing new decks for a row of Habitat townhomes in Pigtown.
At the Presstman Street build, volunteers skimmed walls and unloaded and stacked lumber in temperatures so cold that the cement mixture froze before it dried on the walls. A heater was brought in to warm up not only volunteers but also the cement.
"We were diligent and had a good time," added Amy Burns, the dean's office manager, who helped at the site. "There are no stairs into the building so we had to jump in the basement window. Everybody was a good sport." Volunteers took occasional breaks warming up in their cars.
Laura Loessner, MSW, LICSW, assistant director for field education, said she got involved in the project because she liked the idea of helping to build a home for someone and doing it in unity with colleagues from work.
"I'm a dyed-in-the-wool do-it-yourselfer, so I was also looking forward to volunteering time doing something I love in that way," she said. "It was also really wonderful to build something with work friends and students. It was a wonderful way to see a different side to people you see every day, and enjoy an experience with students that is outside the classroom."
Betsy Wilmerding, MSW '86, manager of faith and youth partners at Habitat for Humanity of the Chesapeake, was glad to see her alma mater participating in a Team Build and stopped by the site for a visit.
"To me, it was a great synergy. It felt so fitting to have the School of Social Work and Habitat partnering in Sandtown because both organizations are trying to address entrenched problems in the area and I think both are doing great work," she said. "They gave us time and a very generous donation for which we are really grateful."
In order to participate in a Team Build, organizations are asked to provide volunteers and donate at least $3,000. "What Habitat always needs is combined donations of volunteer labor and dollars," Wilmerding said. "Construction is very expensive; very worth it, but very expensive."
A single mother and her two children will move into the three-story home sometime after it is complete in 2017, said Kate Sam, communications director for Habitat for Humanity of the Chesapeake. So-called "partner families" must have a proven need for housing, complete a home-buying education class, have an income, and put 250 hours of "sweat equity" into their Habitat home or any other Habitat project.
Dawn Shafer, LCSW-C, LCADC, assistant dean of student services, and David Flinchbaugh, assistant dean of development also participated.
"It's a nice way to do something helpful around the holidays. It is so different than my regular job and it was a great time to spend with my colleagues and students," said Shafer, who has been rehabbing her own house, built in the 1930s. "We have heat, which makes it easier, but not as much fun" as the Sandtown project.
Social work students participating in the project included Jason Dollar, Vanessa Gonzalez, Bethany Yates, and Raquel Zuniga.