University of Maryland UM Ventures and Harpoon Medical, Inc. , announced on Nov. 19 that the University of Maryland, Baltimore (UMB) has invested $100,000 in Harpoon Medical. This is the first equity investment UM Ventures has made in a company and completes Harpoon Medical's $3.6 million Series A financing. The investment also coincides with the U.S. Patent and Trademark Office's decision to grant a patent for the innovative beating heart mitral valve repair technology Harpoon Medical licensed from UMB . The team in the Division of Cardiac Surgery at the University of Maryland School of Medicine developed the licensed technology.

"We have been working with UM Ventures since Harpoon was formed and are honored that they chose to make their inaugural investment in our company," said Bill Niland, Harpoon Medical's CEO and president. "In just over a year we have formed a company, licensed innovative technology from UMB, secured the first of what will hopefully be many patents, and raised the funds necessary to demonstrate the efficacy of the device in the clinic. The support we received from UM Ventures and UMB has been instrumental in that process and we would not be where we are today without their assistance."

UM Ventures recently established an investment fund to aid in accelerating technology transfer and commercialization of products developed within UMB and the University of Maryland, College Park (UMCP), particularly in recognizing that it can be difficult for startup companies to raise initial funds. The fund will provide both equity investments and/or loans to startups coming out of the universities and that are establishing headquarters in Maryland.

"Through UM Ventures, UMB and UMCP are able to make investments that aid in commercializing technologies developed at the universities," said James L. Hughes, MBA, director of UM Ventures and president, Research Park Corporation , UMB, and chief enterprise and economic development officer and vice president at UMB. "The resources provided to these companies are designed to help attract high-quality entrepreneurs to leadership positions and to add to the economic development benefits provided by the state of Maryland. These investments should also provide a potential financial return to our two universities. It's designed to be a win-win for all parties involved," said Hughes.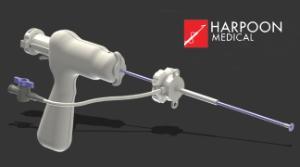 Harpoon Medical, Inc. is a development stage medical device company located in Maryland commercializing a minimally invasive, image-guided surgical tool for beating heart mitral valve repair. With the Harpoon device, surgeons will be able to access and repair the mitral valve in a beating heart through a small incision between the ribs without the need for cardiac arrest or cardiopulmonary bypass. Harpoon Medical hopes to transform traditional open-heart mitral valve surgery from a complex three-to-six hour operation to a 60-minute procedure and reduce the recovery period from weeks to days.

The technology was developed in the Division of Cardiac Surgery, led by James Gammie, MD, chief of the division and professor at the School of Medicine, shown in the lower photo. Gammie performs over 200 mitral valve operations per year as chief of a cardiac team whose focus on the surgical treatment of heart disease results in more than 1,500 open-heart operations per year. However, he is not satisfied with being expert in the current standard of care for repairing leaky mitral valves. So Gammie and his research team invented the new device that may enable heart valves to be repaired without opening the chest or stopping the heart.

Gammie co-founded Harpoon Medical in July 2013 and was honored last month during UMB Founders Week as the 2014 Entrepreneur of the Year.
UM Ventures is an initiative to channel the tremendous technical resources and research expertise of the University of Maryland, engaging partners in industry and social ventures to expand real-world impact. By encouraging students and faculty, providing expert advice and business services, more discoveries will reach the market. By engaging directly with external partners UM Ventures brings new investment, expanded markets, and more startup ventures. Visit http://umventures.org/ to learn more.