The Institute for Innovation and Implementation (The Institute) has been honored as one of Baltimore's top places to work. The honor was announced Dec. 7 by The Baltimore Sun, which sponsors an annual contest to choose outstanding workplaces placed on surveys of their employees.

The Institute, a part of the University of Maryland School of Social Work, serves as a training, technical assistance, evaluation, policy, systems design, and finance center for the Maryland Children's Cabinet agencies, along with multiple states, localities, and private organizations.

To choose its list of top workplaces, The Sun collaborated with Workplace Dynamics," a Philadelphia-based employee consulting firm to conduct surveys of employees. Some of the comments of The Institute's employees were published online in the section, "What employees say." The consultant surveyed workplaces of varying sizes and analyzed the resulting data. In the 2014 list of Baltimore's Top Workplaces, The Institute ranked No. 47 among 65 small-sized workplaces. Altogether, 100 workplaces are being honored.

The Institute employs 56 people in Maryland among its 70 employees, the majority of whom work at 306 W. Redwood St. in offices housed in the Appold-Faust Brothers Building, one of Baltimore's only remaining buildings with a cast-iron façade.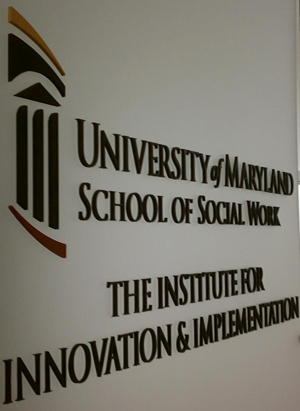 "I believe The Institute is a special place to work, with very dedicated and talented professionals who show up every day intent on making a difference in the lives of children and families," says Michelle D. Zabel, MSW, director of The Institute and a clinical instructor at the SSW. "As we head toward the 10th anniversary of The Institute, it is so nice to be acknowledged as one of Baltimore's Top Workplaces for 2014."

The Institute has an interdisciplinary group of faculty and staff with degrees in criminology, public health, psychology, social work, social policy, and law, as well as family members who are working on children's behavioral health issues.

The goal of The Institute is to develop effective service systems and establish a skilled workforce that can expand and sustain community-based systems of care across the country to benefit all children and youth with behavioral health needs and their families.

The Institute has 56 contracts with Maryland state foundations, local jurisdictions, and federal agencies as well as with states and localities across the nation.

Its staff volunteers regularly in ways including preparing breakfast at Baltimore's Ronald McDonald House, coordinating staff to attend blood drives, participating in annual mental health awareness walks, and purchasing holiday gifts for the SSW's Family Connections program.

The Institute hosts a weekly health and wellness event for staff and faculty, has quarterly themed potlucks and annual holiday parties, and gives out "brick awards" to community partners to signify how they have helped build its foundation.