Some of the world's leading scientists gathered at the University of Maryland School of Medicine on Dec. 12 for the second annual Festival of Science, where they discussed infectious diseases and global viruses that have made front page news over the past several months.
Keynote speaker Anthony Fauci, MD, who is director of the National Institute of Allergy and Infectious Diseases (NIAID) at NIH, spoke about the current situation in the battle against the Ebola virus. As head of the NIAID, he has been at the center of U.S. efforts to deal with the disease, and his agency is overseeing several of the vaccine trials currently under way. In fact, he had to make his keynote via video when a last-minute meeting at the White House kept him in DC.
Robert Gallo, MD, the Homer & Martha Gudelsky Distinguished Professor in Medicine and Director of the Institute of Human Virology (IHV), is a towering figure in the fight against HIV/AIDS, helped discover that HIV causes AIDS, and has spent much of his career studying the disease. He spoke on continuing efforts to create a vaccine to prevent HIV transmission – a possibility that would revolutionize the fight against the disease.
The Festival of Science is a one-day celebration of research at the University of Maryland School of Medicine, hosted by E. Albert Reece, MD, PhD, MPH, dean of the School of Medicine. It featured a series of nine faculty presentations showcasing innovative work by School of Medicine scientists. Topics included research on Ebola, malaria, and HIV vaccine development, inflammation and diabetes.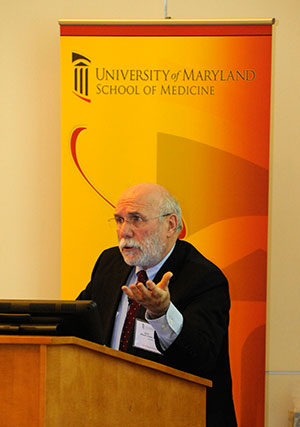 In addition, Myron M. Levine, MD (pictured right), the Simon and Bessie Grollman Distinguished Professor in the Department of Medicine and director of the Center for Vaccine Development (CVD), talked about his work testing an Ebola vaccine. He is currently leading the first-ever human trial in West Africa of an Ebola vaccine. The study is taking place in Bamako, Mali, in collaboration and conjunction with its sister institution, The Center for Vaccine Development of Mali (CVD-Mali) and the Ministry of Health of Mali. Levine also spoke about CVD's work on developing other vaccines for typhoid, Salmonella and Shigella, among other diseases.
Fauci has made many major contributions to the battle against infectious diseases, including HIV/AIDS. He has been one of the leaders of the President's Emergency Plan for AIDS Relief (PEPFAR), the multi-billion-dollar prevention and treatment program that has saved millions of lives throughout Africa and elsewhere.
In his talk, Fauci mentioned that in America, public concerns over Ebola have been overblown. He noted that of the recent travelers banned from leaving West Africa due to symptoms, none had Ebola. Instead, they were infected with malaria.
Christopher V. Plowe, MD, MPH, leader of the Malaria Group at CVD, thanked Fauci for mentioning this. Plowe, whose presentation was about the difficulty of developing a malaria vaccine, noted that every minute, 25 people die from malaria – millions more than die from Ebola. Plowe and his colleagues are trying to understand the molecular mechanisms of drug-resistant malaria. His team has developed methods to quickly test for mutations that allow the malaria parasite to resist antimalarial drugs.
Also speaking in this group was Aaron P. Rappaport, MD, the Gary Jobson Professor in Medical Oncology in the Department of Medicine and director of Lymphoma/Gene Medicine at the University of Maryland Marlene and Stewart Greenebaum Cancer Center, has focused his research on the use of immune cells and vaccines to enhance immune recovery after stem cell transplants. He hopes to harness the ability of a patient's own immune system to recognize, target and eradicate blood cancers such as multiple myeloma.
Another of the Festival's key focus areas was inflammation, and several speakers focused on their work in that area.
Stepahnie Vogel, PhD, a professor in the Department of Microbiology and Immunology, talked about her work exploring how immune cells can be modified to reduce the excess inflammation that sometimes occurs in cases of influenza. Immune cells recognize infectious agents, like the flu virus, and send out chemical signals to activate immune cells that migrate to the lungs to fight the infection. But sometimes in severe cases of flu, too many immune cells accumulate in the lungs and cause extensive lung damage. Her studies suggest that this lung injury may be treated with medicines that inhibit immune cell signaling.
Inflammation also plays a role in another lung problem: asthma. Achsah Dorsey Keegan, PhD, professor in the department of Microbiology and Immunology, is examining a previously undiscovered role for a signaling molecule that might stop the chronic allergic inflammation such as asthma. Her studies indicate that increasing the activity of this molecule might help alleviate symptoms of asthma.
Inflammation can also lead to diseases not associated with infection or allergy. Stephen N. Davis, MBBS, the Theodore E. Woodward Endowed Professor and Chair of the Department of Medicine, is studying the link between glucose metabolism and inflammation, and his discoveries may help to explain why people with diabetes often suffer from atherosclerosis and heart disease. He cites evidence from studies of groups of healthy, diabetic, and obese people, which suggest that improper glucose metabolism increases inflammation in blood vessels.
"The Festival of Science has become a tremendous event each year for the SOM," said Reece. "The faculty presentations once again illustrated the impact that our scientific discoveries are having on critical global health issues. We are grateful to our presenters and, in particular, to our esteemed Scientific Advisory Council, for their invaluable questions and insights," he said.