Today, clinical practice guidelines are mostly developed by clinicians taking data and coming up with high-level population course guidelines.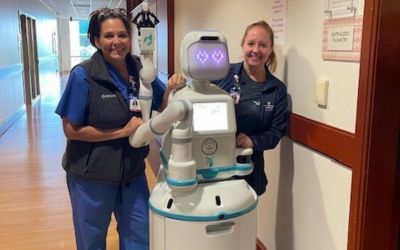 But Suchi Saria, PhD, MSc, says this method isn't especially effective in a real-time setting because it doesn't account for any level of nuance or exceptions. And often patients are that exception.

"What you really need for these kinds of real-time guidelines to be effective is to take these course guidelines and make it refined to the lens of a single patient — and that's why AI [artificial intelligence] and machine learning [ML] are really good," said Saria, director of the Machine Learning, Artificial Intelligence and Healthcare Lab at Johns Hopkins University.
"So, I see the future as a combination of using AI and ML to improve and individualize practice guidelines."
Health care professionals like Saria, a machine learning expert and health AI pioneer who founded Bayesian Health, a company that's spent over a decade researching, building, and validating a state-of-the art AI/ML platform that helps physicians make the best care decisions, are looking to see just where that technology fits into their day-to-day work.

Saria was one of more than 40 speakers sharing their insights at the 32nd Summer Institute in Nursing Informatics (SINI): Capturing the Value of Informatics Across the Health Care Continuum on July 20-21 at the University of Maryland School of Nursing (UMSON), an event that focused on how this technology is being incorporated. Sessions included everything from telehealth to robots in nursing to AI in the health care field to virtual reality in pain management, and more.

SINI, first introduced in 1990 at UMSON after the implementation of the nation's first master's program in nursing informatics, is a nonprofit international event that provides an opportunity to deliver multiple-level learning experiences to meet the needs of nurse and health care informaticians across the spectrum of practice.

"We celebrate this role and reputation as the place to come to expand one's knowledge of informatics and to learn about the latest developments in the field," Yolanda Ogbolu, PhD '11, MS '03, BSN '04, NNP, FNAP, FAAN, the Bill and Joanne Conway Dean of the University of Maryland School of Nursing, said in her welcoming remarks kicking off the conference July 20. "It is a place to explore emerging challenges and to network with colleagues."
It's critically important to see informatics as a tool, said Neri M. Cohen, MD, PhD, who works in clinical informatics at Bayesian Health and spoke about the topic with Saria.
"It's impossible to unwind decades, if not centuries, of work from clinicians' acumen to how they take care of patients. The idea is to build technical tools that leverage the clinical experience in a way that marries the tech and the clinical acumen," he said.
The work Saria and Cohen are doing is an attempt to change care from reactive to a more proactive approach.
"We think of the AI that we're building as serving as a clinical consultant to the clinicians, synthesizing the data and making sense of it [by] stitching together longitudinal data, assessing whether this patient is deviating from … what's expected, and learning those markers that indicate patients are at risk for declining trajectory," Saria said.
Robotics in health care is one way of seeing the field of informatics in action, according to Gregg Springan, MSN, RN, head of clinical informatics, nurse executive, Diligent Robots, who led the session "The Value of a Robot – What Can a Robot Do for Nursing."
"Where we are at in health care, I think, is really a unique opportunity," Springan said "Hospitals are seeing unprecedented workforce challenges. I don't need to elaborate on this to anybody. Finding nurses, patient care techs, pharmacists, pharmacy techs, physical therapists, all of these clinical roles are roles that they are having a hard time filling. So, when we think about where robotics are in health care, automating routine tasks for people who are working in health care is no longer a 'nice to have.' It's really becoming a necessity."
Springan referenced a recent McKinsey & Company survey of nurses leaving the profession showing the top three things impacting their decisions centered on lack of work-life balance, not feeling valued by the organization, and an unmanageable workload.
"Robotics offers a really unique opportunity to target this kind of category around unmanageable workload," he said. "When we think of caregiver well-being — and simply giving nurses time back in their day, giving clinical team members time back in their day to have a lunch break, to use the restroom, or to spend more time at the patient's bedside — literature suggests that patients do better when nurses are at the bedside.
That's the reason officials at Mary Washington Healthcare in Fredericksburg, Va., decided to bring on board Moxi, described as a robotic hospital assistant.
"She's going to be rolling through the halls," said Eileen Dohmann, MBA, BSN, RN, senior vice president and chief nursing officer at Mary Washington Healthcare, describing Moxi in a video presentation during SINI. "Units are going to be able to put in a request that essentially says, 'I'm the nurse up on Five West; I need to get medications for a patient in 5074. And I need them from pharmacy.'
"Moxi will get that message and will go to the pharmacy. She'll tell the pharmacy, 'I'm here to pick up,' and the pharmacy will be able to give her the medications that need to be delivered. And then Moxi will take those medications back up to the nurse who made the request."
One area of dissatisfaction in the survey Springan mentioned was the amount of time nurses spend fetching things from other areas of the hospital.
"Often what happens is nurses have to leave the unit to go pick something up, and what does that mean?" Dohmann asked. "The nurse has to leave their patient. But not anymore. Not with Moxi. She gives our nurses more time with patients and allows our nurses to really practice at the top of their license."
For more than three decades, UMSON informatics faculty, along with an expert planning committee consisting of national and international leaders in the field, have assessed the learning needs of the nursing/health care informatics community, reviewed technology and informatics trends, and made recommendations to determine the overall theme, goals, and objectives for each SINI event, held annually in July.
"What makes this gathering so special — it's not just its compounding legacy, but it's the breadth of the issues that are discussed at the conference and the ideas that are shared among colleagues about how informatics can continue to make a difference," Ogbolu said. "I've often heard the concerns of families on the front line regarding the requirements of the electronic health record and the constant focus of how providers are collecting information. A challenge that is facing the field of informatics is to be able to draw the connection for others between why that data is so carefully collected and how it can be used to benefit and improve patient care."