If you build it, they will come.
The line comes from the classic baseball movie "Field of Dreams," but the same can also be said of the new playground at Eutaw-Marshburn Elementary School, recently built by a team of more than 200 volunteers in six hours, braving record heat.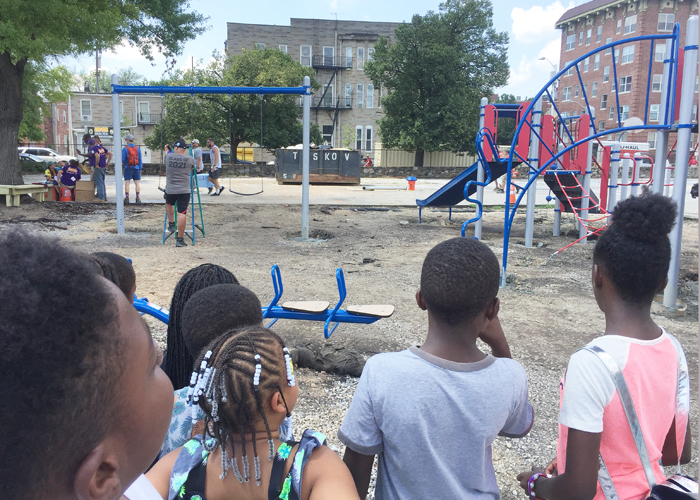 On July 19, with a heat index above 100 degrees, leaders of the Promise Heights initiative of the University of Maryland School of Social Work (SSW), along with volunteers from Travelers Insurance and the Upton/Druid Heights community, joined with KaBOOM! to transform an empty site into a kid-designed, state-of-the-art playground. KaBOOM! is a nonprofit organization that creates play spaces for children, particularly in disadvantaged communities.
"Our kids deserve a play space that's safe, and the last playground that was here was over 20 years old so it's time for an update," said Amani Coker-Warren, LMSW, Promise Heights' Community School Coordinator for Eutaw-Marshburn Elementary School. "It's just so important to play and be active as a child and to have a safe space to do that in, and just having that release of energy allows them to focus when they come back into the classroom."
Last spring, children met with KaBOOM! representatives to design the playground, and "overwhelmingly, they all wanted swings," said principal Tiffany Cole. The new playground also features a slide, hopscotch board, a football field, rock climbing wall, a basketball court, flower boxes, seating areas, and more.
"It's fun going down and then swinging up in the wind," said Kennadi Faulcon, 9. "I can't wait for the swings."
"We're going to have a new experience," added Damoatay Scott, 10.
"I don't think I can put that into words," Cole said when asked what a new playground would mean to her students. "The playground has always been a topic of concern. It was old, dangerous, and not safe. Now, the children are beyond excited."
KaBOOM! project manager Derrick Dixon rallied the volunteers at the start of the build.
"Simply being out here today just shows that you really care about the well-being of children," he said. "I want you to take a look around this area — you're going to completely transform this area today in just six hours."
"It's going to be one tough, long day for you. But it will be many enjoyable days for the kids here in this community," added Travelers regional director Jason Bonardi. More than 100 volunteers from the insurance company contributed sweat and elbow grease to the project.
SSW Dean Richard P. Barth, PhD, MSW, spent part of the day painting a city map onto the blacktop.
"We often say at the University of Maryland, Baltimore that we are not in the community, we are of the community. To be of the community, it's important to be part of our neighborhood," he said. "In Promise Heights, we work with schools in many different ways, through policy and programs, but also in very tangible ways, like slides and swings."
While play is essential to children, limited resources sometimes means playgrounds fall by the wayside, said Baltimore City Schools chief of staff Alison Perkins-Cohen.
"Our feeling is that students need access to physical activities, they need access to play space. And it's something that we just don't often have the resources to provide for them," she said. "When we have to focus those resources on things like roofs, HVAC, and air conditioning, we can't get to things like play space."
Baltimore City Councilman Eric Costello, who represents Upton/Druid Heights, also was on hand to thank volunteers.
"One challenge we don't have in this city in this neighborhood is willpower to make it better for our children," he said. "And that's exactly what you see out here today. I can't tell you how much of a difference it is going to make for our young people at Eutaw-Marshburn."
Promise Heights is an initiative established by SSW in 2009 to improve educational outcomes for youth and ensure families are healthy and successful in the West Baltimore community of Upton/Druid Heights. Eutaw-Marshburn Elementary School is a Promise Heights Community School.