University of Maryland, Baltimore President Jay A. Perman, MD, joined Baltimore and Maryland government officials, business leaders, and philanthropists Aug. 3 to dedicate the newly reopened McKeldin Square Park near Baltimore's Inner Harbor.
Until recently, the park on the southeast corner of Pratt and Light streets was home to a complex of fountains known by many as The Waterfall. McKeldin Square opened in 1982 to much fanfare, but in later years decay and the expense of maintaining aging pumps and operating the fountains prompted city leaders to begin plans to redevelop the park.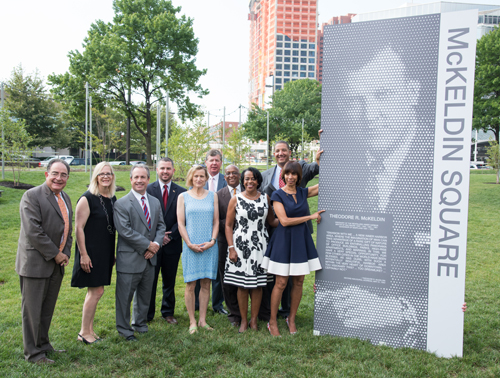 "The purpose of a public space is to appeal to all, not just to tourists. It's to unify and to connect, it's to encourage human interaction," said Kirby Fowler, president of the Downtown Partnership of Baltimore. Fowler thanked all involved in the project, as well as the Meyerhoff family, whose financial support made the original park possible. He called the $4 million funding of the new park a perfect public-private partnership, one-third private funding, one-third city funding, and one-third state funding.
"Today, we have a space that is green and open and inviting, a space that connects and supports its neighboring buildings, a space that brings people back to the street level where the real world exists and retail, too. And now, you'll soon see a space that educates people about the life and legacy of Theodore McKeldin," Fowler added.
The park's namesake, Theodore R. McKeldin, JD '25, was twice mayor of Baltimore (1943-1947 and 1963-1967) and served as governor of Maryland from 1951 to 1959. As mayor, McKeldin embarked on a wide-ranging campaign of urban renewal projects, including early efforts to redevelop the Inner Harbor area. As governor, he is credited for his efforts to build the Baltimore Beltway, the Capital Beltway, and the John Hanson Highway (Route 50), and for his work as a civil rights advocate.
Keifer Mitchell, special advisor to Gov. Larry Hogan and former Maryland delegate and Baltimore City Council member, recalled his family's experiences working alongside McKeldin in support of civil rights for African-Americans. "It was my great-grandmother, Lilly Jackson, and my grandmother, Juanita Jackson Mitchell, who worked closely with Gov. McKeldin and Mayor McKeldin back when it wasn't popular to be part of civil rights and to integrate schools and parks. But Mayor McKeldin and Gov. McKeldin had that vision," he said.
"It is his vision that turned Baltimore into one of the first urban renewal success stories in the nation," added Mayor Catherine Pugh. "I can think of no better way to honor his legacy than by turning the plaza that bears his name into an inviting place for Baltimoreans."
Perman, who also serves as Downtown Partnership board chair, amplified Pugh's remarks, noting, "This reopening of the plaza signals our confidence in the beautiful future of this city where more people are clamoring to live, work, and play than at any time before. The plaza redesign is new, but it's really an investment in an old-fashioned idea, the idea of the public square, the idea that public spaces draw us together by giving us a common experience and a common point of reference."
Visitors to the park can enjoy public art created by Setsuko Ono, and rest on terrace seating that incorporates crushed concrete from the original fountain in its base. Soon, large signs will be posted in the park that will include information about the life and legacy of Theodore McKeldin. Eventually, the city plans to construct an as-yet undetermined water feature for the park
McKeldin's granddaughter, Caroline McKeldin Wayner, expressed gratitude to all involved in the project for "transforming this space into something more green, more accessible, and just more beautiful." She added, "Thank you so much for honoring my grandfather's legacy and his vision for a more beautiful downtown Baltimore."
Elizabeth "Buffy" Minkin, granddaughter of Bud and Lyn Meyerhoff and president of the Meyerhoff Family Charitable Funds, also lauded the project. "This is quite an extraordinary opportunity for all of us to see what's possible when partnership really works," she said. "Bud and Lyn Meyerhoff answered Gov. and Mayor McKeldin's call to help fund the fountain in the late '70s to make his vision for this public meeting space a reality. My grandparents really believed, and my grandfather, who's still alive, does believe in creating spaces where people can come together to talk about things, to share in good times, and to do all of the things we were talking about that public spaces should be."