U.S. Sen. Benjamin L. Cardin, JD '67, returned to his alma mater, the University of Maryland, Baltimore (UMB), to tour the UM BioPark and host a roundtable discussion with University leaders and biomedical innovators, highlighting such topics as bipartisan solutions to health care policy and ways to encourage small business innovation.
"I always get excited being here," Cardin said as he kicked off the discussion on Aug. 10. "It does energize me. After what I've just gone through this month in the United States Senate, it's good to be here, to realize there is real life going on in our communities."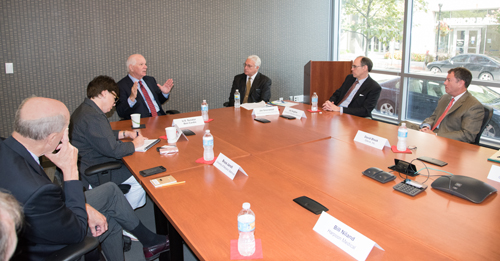 In addition to the senator, participants in the roundtable discussion included: Bruce Jarrell, MD, FACS, UMB chief academic and research officer, senior vice president, and University of Maryland Graduate School dean; James L. Hughes, MBA, chief enterprise and economic development officer and UMB vice president, and director of UM Ventures-Baltimore; Jane Shaab, senior vice president, UMB Health Sciences Research Park Corp. and UMB assistant vice president for economic development; Jeffrey Grossi, JD, senior government affairs specialist; Harpoon Medical CEO Bill Niland; Rachel K. King, MBA, CEO, GlycoMimetics Inc.; David Block, MD, MBA, president and CEO, Gliknik Inc.; Danny Ly, MPA, director, public policy and government relations, BD; former Congressman Jim Greenwood, president and CEO, Biotechnology Innovation Organization (BIO); Charles H. Fritts, senior director of federal government relations, BIO; and Ann Jacobs, senior advisor to the senator.
(View a photo gallery.)
Cardin started the conversation explaining the political landscape in Washington relating to health care policy and biotechnology research.
"We can talk about specific issues and you're going to find that I am going to do everything that I can to make sure that basic research is supported at NIH [National Institutes of Health] and make sure that we have the tools in place to do what you need to do to get trained people," Cardin said. "But I really do think the most important thing that the United States Congress can do is give you sound policy. … It may not be everything you want, but at least you know the ground rules and you can move forward. I say that because obviously we have just spent several months with an inconclusive health care policy in this country."
Other roundtable participants explained how their innovations benefit the biotech economy and the lives of patients. For example, Niland explained how Harpoon Medical's new device makes mitral valve heart surgery much less invasive and greatly reduces the time patients remain hospitalized post-surgery.
Cardin said innovations like Harpoon's are key to bringing down health care costs. "What you're saying is, you're going to reduce hospital stays by five days, six days, seven days. That's big savings," he said.
Cardin's constituents are not unhappy about the price of drugs, Greenwood told the senator. They're unhappy that it's coming out of their pockets.
"I recognize the dilemma we have," Cardin said.
Greenwood emphasized that while technology in the biomedical industry has allowed for great strides to be made in how diseases such as AIDS and cancer are treated, "there are huge unmet needs when you're talking about Alzheimer's, autism, diabetes … there's almost an endless list" of diseases that need additional resources in order for significant progress to be made.
"There is nothing in the science to stop us from doing that and there is no shortage of entrepreneurs who are willing to risk it all and fail and start over again and there is no shortage of investors who are looking to invest in what these companies do, so the potential really is without limits," Greenwood said. The problem, he added, is that biomedical technology companies have a 90 percent failure rate, and 90 percent of their clinical trials fail.
"Because of that failure rate, investors know if they are going to invest in a biotechnology company it's going to be high risk, so that requires high yield, high return and that has an impact on growth. There's no way around it," Greenwood said.
Other topics discussed included lowering the costs of prescription medications, making prescription medications more accessible to patients, and tax credits to encourage more companies to invest in research and development.
After the 45-minute discussion, Cardin thanked everyone for their input.
"You are a priority of our state. You're a priority of our country. What you do here is critically important for America's future," he said.
The roundtable discussion took place after a brief tour of the BioPark during which the senator met with leaders of tenants Paragon Bioservices and the Hussman Institute for Autism. The two companies are among 33 emerging, high-growth life science companies and translational research centers housed at the UM BioPark.