Underserved residents of Frederick County have begun receiving oral health care at a clinic established this summer by the University of Maryland School of Dentistry (SOD) in collaboration with public and private partners. Leaders gathered in Frederick, Md., for a ribbon-cutting on Aug. 16.
(View a photo gallery.)
The clinic's affiliation with Frederick Memorial Hospital and its parent, Frederick Regional Health System, is a first for the SOD in what can be viewed as a state and national model.
"We envisioned this novel collaboration as serving as a road map or a model for other university, community-based health care partnerships," said SOD Dean Mark A. Reynolds, DDS, PhD, MA. In his remarks at the event, he referred not only to the financial and operational collaboration, but to its relationship with the hospital, which refers patients and shares records.
"I see this as an opportunity to bring oral health care professionals into the multidisciplinary health care team, and that would be a relatively novel step forward in bringing dentistry and medicine together," Reynolds said.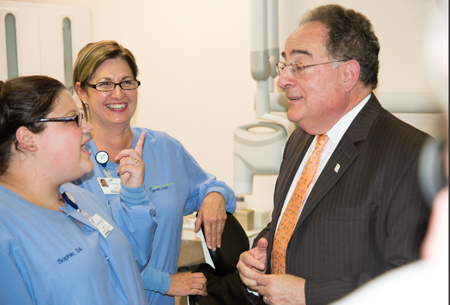 Jay A. Perman, MD, president of the University of Maryland, Baltimore (UMB), described the teamwork underlying the clinic as reinforcing one of UMB's core values: collaboration.
"Find ways to do good things together," he said. "You've given us the great opportunity to deliver on our mission, which is to help ensure health care access for underserved populations."
Maryland Del. Karen Lewis Young of Frederick County noted that provision of oral health care was among topics for state legislators gathered at a recent national conference. Young said the Monocacy Health Partners Dental Clinic met four of five best practices, starting with access for the underserved.
The need for dental care among low-income adults has been great, as shown by an assessment in 2013 by the Frederick County Health Department and by cases in the emergency department at Frederick Memorial Hospital, which is located within view of the Monocracy Health Partners building. It houses the five-room dental clinic as well as other health services.
The head of the Frederick Regional Health System said Frederick Memorial had been averaging close to 1,000 visits per year for dental issues. "We saw a rising pattern of patients coming to our emergency room for relief from pain from incidents and infections related to dental conditions," said Tom Kleinhanzl, president and chief executive officer of the health system.
The Affordable Care Act and other initiatives have created a safety net for children but not for adults, who often have been unable to access follow-up care. Since the clinic opened in June, nearly 100 people have been treated. Low-income adults pay on a sliding scale, based on what they can afford.
Many are like Kimberly Bright, a mother of four whose children are covered under Medicaid but who had foregone her own dental care as too expensive. One day in July, overcome by pain from a wisdom tooth, she went to the Frederick Memorial emergency department. An article published by The Baltimore Sun about the clinic described how Bright was treated by a fourth-year SOD student, who performed an extraction under the oversight of a local dentist.
Several are among dentists on the dean's faculty, including Vincent diFabio, DDS, who was credited in Kleinhanzl's remarks with "planting the seed" that helped lead to establishment of the clinic.
Reynolds said the model helps the SOD to educate students in various clinical settings, "to prepare them in a way that they can be highly effective when they enter the community."
And then, after the dean expressed the school's delight in being able to partner with Frederick's leaders to open the clinic, it was time to cut the ribbon. The ceremony had been whisked indoors just in time to avoid a summer rainstorm.
Scissors in hand, those doing the honor were diFabio; Reynolds; Perman; Mark Luckner, executive director, Maryland Community Health Resources Commission; Kleinhanzl; Delegate Young; Frederick Mayor Randy McClement; and State Sen. Ronald N. Young of Frederick.
Among those attending the event in higher education were Richard J. Manski, DDS, MBA, PhD, chair of the department of Dental Public Health at the SOD, and James T. Brady, chair of the Board of Regents of the University System of Maryland.