At a July 29 luncheon at the Dr. Samuel D. Harris National Museum of Dentistry marking the culmination of the YouthWorks program for Baltimore students, Congressman Elijah E. Cummings, JD '76, encouraged the youths to continue to pursue their aspirations, regardless of any obstacles they may face along the way.
"I'm here to tell you, you come from good stock," Cummings told the students. "Your mother and father, your grandmother, your great-grandfather, were strong people. They came through some difficult times," he said. "The question now becomes how do we go from, what sometimes seems, invisible to invincible?"
The luncheon was held for 50 of the University of Maryland Medical Center's (UMMC) Hire One/YouthWorks students and 27 students in the University of Maryland, Baltimore (UMB) Summer Bioscience Internship program.
(View a photo gallery.)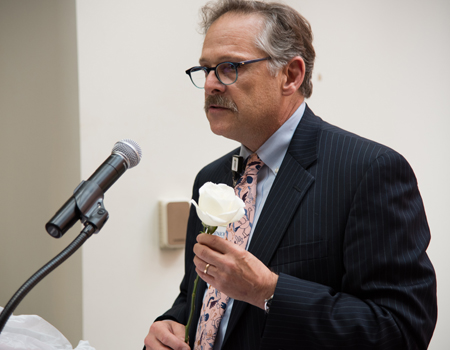 The YouthWorks internship program is for students ages 16-21, who reside or attend school in Baltimore. The intensive five-week program began on June 27. Students are paired with faculty mentors in the fields of medicine, pharmacy, nursing, and community engagement. Youths learn about workplace behavior and dress, lab safety, ethics, research practices, community organizing, and advocacy.
Every year Cummings issues a challenge to get more students into the program, said Roger J. Ward, EdD, JD, MPA, chief accountability officer and vice president of operations and planning, who provided welcoming remarks to the students on behalf of UMB President Jay A. Perman, MD.
"He understands better than most how vital it is not only to get a good job, but to get the chance to compete for good jobs, to get your foot in the door, to get the experiences and advantages that so many other students get," Ward told the students. "That's what he wants for you. That's what we all want for you."
The program began in 2008 at the request of Cummings as a way of getting disadvantaged students interested in health sciences careers.
Cummings said he opted not to attend meetings scheduled that morning in Philadelphia following the Democratic National Convention because he felt compelled to be in Baltimore.
"I wanted to come and be with you, the future not only of Baltimore, not only of Maryland, but of the world," Cummings said. He spoke of the work ethic of his parents, former sharecroppers in South Carolina who moved the family to South Baltimore in 1945 to strive for a better life for their children. He said his father believed there was no such word as "can't."
"So often we go through life telling ourselves we can't do something, when you have to make up your mind that you can," Cummings said.
The internship program is an example of a collaborative partnership between UMMC and UMB, said Leonard Taylor Jr., MFA, MBA, UMMC's senior vice president for operations and support systems. In his remarks to the students, he reflected on the acronym used in the focus on careers in science, technology, engineering or mathematics – the so-called STEM fields.
"Maybe they picked STEM because the stem is the foundation of something quite wonderful, quite beautiful – the flower," said Taylor, holding up a fully bloomed white rose in his hands. "You can't have a flower without a very strong stem…we certainly hope you've established your personal stem, a foundation for the flowering of your future."
Ty'kira Jackson, 17, said she enjoyed the time spent with her mentor, Laura Buchanan, MD, assistant professor of surgery at the School of Medicine.
"I learned about wounds and soft tissue, toured an operating room, and helped stock patient rooms," said Jackson, who attends Green Street Academy. "There was so much to do. It was a model experience."
Nina Mendez, 18, a pre-med psychology sophomore at the University of Chicago, has been participating in the internship program for three years. "It's expanded a lot since I was 15. It wasn't as intense as it is now. I really enjoyed my experience," she said. Mendez spent time with her mentor pharmacy professor Julie Zito, PhD, studying the use of medications on children in emergency departments.
Dijiaih Hill, 16, who will be entering her junior year at Baltimore Polytechnic Institute, spent her internship shadowing nurses in the pediatric unit and nurse practitioners in the neonatal intensive care unit. She was mentored by Elsie M. Stines, DNP, CRNP, a pediatric nurse practitioner who is also assistant vice president of special projects and initiatives in the Office of the President at UMB.
"It was an invaluable experience," said Hill, who also was involved in Club UMB, a University youth outreach program, in the sixth grade. Her 11-year-old brother, Davioin, is in Club UMB now.
Cummings thanked several individuals who helped create the program, primarily Brian Sturdivant, MSW, UMB's director for strategic initiatives and community partnerships.
"These things don't just happen. Mr. Sturdivant has put his blood, sweat, and tears into this because he wants to make sure his fingerprints are on your future," Cummings said. "You may not realize it right now, but this program will be something that you will remember and that will become a part of your destiny and you will remember it until you die."
Others credited for the program's success included: Richard Colgan, MD, executive director of the Maryland Area Health and Education Center (AHEC) program, and vice chair for medical student education and clinical operations in the University of Maryland School of Medicine's Department of Family and Community Medicine; Allison Robinson, MPH, a research coordinator at the School of Medicine (SOM) and AHEC; Samuel Burris and Maxine Rush, both community engagement workforce development specialists with UMMC; and UMB Summer Bioscience program coordinators SOM student Kiondra Fisher and School of Nursing student Mica Thompson.