This year marks the 10th year that a revolutionary fixed-dose medication, Truvada, has been used to effectively prevent sexually acquired HIV.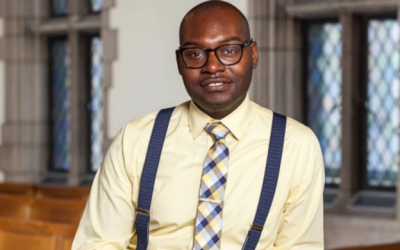 Gilead, the manufacturer of that medication, awarded more than $351,000 for a University of Maryland School of Social Work (UMSSW) study, Project Transcendence, to learn about the barriers of adherence to pre-exposure prophylaxis (PrEP) in the Black transgender women population.
The three-year study is led by UMSSW associate professor Darren Whitfield, PhD, whose research expertise is in biomedical HIV prevention — particularly for Black gay and bisexual men — and LGBTQ health disparities.
"Our goal is getting people from understanding what PrEP is. Going from thinking about using PrEP to going to the doctor to get their first prescription, then taking PrEP as prescribed and then adherence and persistence," Whitfield said.
That means engaging with HIV testing, educating about condom use, and following a process from education about PrEP toward a long-term adherence to PrEP.
Gilead is the manufacturer of the two medications approved for use as PrEP: Truvada and Descovy. PrEP reduces the risk of getting HIV from sex by about 99 percent when taken as prescribed, according to the Centers for Disease Control and Prevention.
"While I don't identify as a person of trans experience, I do identify as a Black gay man. My commitment not only to this study but my research is that I think it's important that we all think about ways to contribute to improving the lives of the communities that we belong to," Whitfield said. "This for me is a way in which I think I can contribute so future generations have a better experience or that we finally get to a place of eliminating HIV infections through a combination of prevention and treatment or a cure down the line."
Part of the study is designed to understand the barriers to adherence of HIV care and biomedical prevention for Black transgender women.
"What we know from existing literature is that because of things around transphobia and racism, Black trans women are less likely to have specific social needs met — housing, employment, health care, and access to health care," Whitfield said. "When they have access to health care, it is either substandard or isn't affirmative of their gender identity, so they experience stigma and victimization."
The study will take place in Atlanta and the Washington, D.C.-Baltimore metro area, working with community partners that will recruit 100 Black transgender women for a three-month observational study survey. Some of the interventions will be adapted from those designed for Black women and take into account gender affirmation theory, Whitfield said.
The other part of the study includes a six-week research community advisory board providing direct information to 35 Black transgender women in a group setting on what HIV testing is, how to access testing, education about PrEP, and the interactions, or lack thereof, between hormone replacement therapy and PrEP. Initial findings from the study will be first published in year two.
"We would take that information and do some skill-building around motivation," Whitfield said. "What would be the reason thinking about gender and gender affirmation to think about not getting HIV tested? Or how HIV testing fits into affirming who you are and the person you want to be?"
Whitfield also is the co-author of research recently published in Environmental Research and Public Health titled "Optimizing PrEP Continuance: A Secondary Analysis Examining Perceived Autonomy Support and Care Coordination Quality Among Black MSM in HPTN 073."
The purpose of this study was to examine whether high-perceived autonomy support — the degree to which a patient perceives their providers are supportive about a health care issue — and care coordination quality were associated with PrEP continuation. Secondary analyses were conducted on data with 226 Black men who have sex with men (MSM) in three U.S. cities — Los Angeles, Chapel Hill, N.C., and Washington. Participants who were PrEP users and scored higher on autonomy support at Week 8 were significantly more likely to continue PrEP.
The findings could help find ways to train providers on how to recognize and support their clients' health care issue as a way that can facilitate PrEP continuation, according to the study.
Whitfield and his colleagues also published a theoretical foundation and conceptual development of Client-Centered Care Coordination (C4) for HIV/STI prevention in the January edition of Sexuality Research and Social Policy.
The approach provides culturally informed, theory-driven, and evidence-based strategies to support PrEP use among Black men who have sex with men using an integrative anti-racism lens. The program found a 70 percent adherence to PrEP use.
The authors hope this influences public health policy to scale-up PreP use by using the C4 method.