Ebony Nicholson, MSW '16, is getting better about being honored.
Having broken down in tears in February 2018 when told she was UMB Employee of the Month, Nicholson merely felt "lightheaded and couldn't focus" on April 5 when she was named University of Maryland, Baltimore (UMB) Employee of the Year at the Employee Service Awards Luncheon at Westminster Hall. "But I didn't cry," she said with a smile afterward. "That's progress."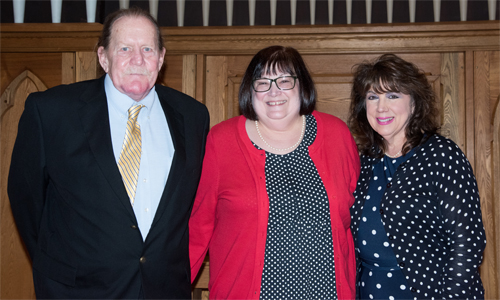 Nicholson, diversity, inclusion, and leadership program specialist in the Office of Interprofessional Student Learning and Service Initiatives (ISLSI), was saluted for supporting an array of programs including the Poverty Simulation, an interactive, three-hour workshop designed to help participants understand what it might be like to live in a typical low-income family and survive from week to week.
"Ms. Nicholson was hired in late 2016 to invigorate the diversity and inclusion programming of the ISLSI with Campus Life Services," said Matt Lasecki, SPHR, chief human resources officer and host of the luncheon. "Not only did she re-imagine existing programs, she also created and piloted a cultural responsiveness training program for staff. The focus of the program is to equip participants with the tools necessary to continue to gain cultural competence and build allyship."
After the luncheon, Nicholson deflected praise to her ISLSI team and supervisor Courtney Jones Carney, MBA. "I am really honored and my work could not be done without my team. UMB is a special place. I don't know how many people get to work for such a supportive organization."
With her in Westminster Hall being honored were 119 UMB employees of 20 to 45 years of service. From housekeeper Helena Wharton being "thrilled" to celebrate 20 years to the Maryland Poison Center's Kevin Simmons clasping his hands over his head like a boxing champ after being recognized for 30 years, smiles were much in evidence.
"There's enormous value in the kind of deep institutional knowledge represented in this room," said UMB President Jay A. Perman, MD. "You know the University's strengths and our challenges. Our history and traditions, our culture and climate. You're the ones whom colleagues seek out when they need the impossible. And they always seem to need the impossible."
Together the 119 longtime employees being honored represented 3,045 years of service. Some 270 of those years came from the six 45-year employees who were honored: Lu Ann Marshall (University of Maryland Francis King Carey School of Law), Mary Miller (Accounts Receivable), Judy Pennington (University of Maryland School of Dentistry), Jean Marie Roth and Phillip Tunstall (both University of Maryland School of Medicine), and Bruce Steffe (Facilities Management).
Asked about their nearly half-century at UMB, memories abounded. Steffe, hazardous materials and demolition project manager, recalled restoring the roof of Davidge Hall in 2000-2001 and "seeing how the roof and dome skylight was constructed back in the 1800s." Miller, who helps handle $800 million a year in sponsored projects, said, "You wouldn't believe all that I learned over the years here — plus the camaraderie and so much more."
Marshall, records and registration coordinator, proudly recalled winning the inaugural Founders Week Public Service Award (1996) and the Board of Regents Public Service Award (2000) as well as leading tours of Westminster Burying Ground and Catacombs for over 35 years, "a job I enjoy immensely." And Roth, academic services specialist, cited "so many memorable moments" but especially a former supervisor, Peggy Brooks-Bertram, PhD. "I had been on campus approximately six years and she saw me as not just someone who worked for her, but with her. She gave me confidence and taught me that I was an equal, that I was significant, which is something I will never forget."
Lasecki had fun with each of the service groups, recounting highlights from the year they began working at UMB. Frank Sinatra died in 1998, when the 20-year group started at UMB. Whitney Houston's "I Will Always Love You" won a Grammy in 1993, when the 25-year group started, and so on. Lasecki also dropped in sports tidbits. But his repetitious "the Orioles didn't win the World Series that year" finally was too much for Thomas Sloane of the Department of Psychiatry at the School of Medicine. He stood and announced, "Hey, I'm a 35-year employee and the Orioles did win the World Series the year I started — 1983," drawing applause from the crowd.
After a fabulous lunch was served, Lasecki and Perman began honoring group and individual award winners. The Staff Senate and nominees for the Board of Regents Staff Award were acknowledged. Ardeen Leake, a security guard in the School of Pharmacy who began at UMB in 1987, got a standing ovation when she received UMB's Community Service Award.
Said Lasecki: "Ms. Leake provides students with an emergency pantry filled with snacks to help them get through the day. She has given students and staff her own gloves when they have forgotten theirs. She continuously volunteers in serving the homeless at various kitchens and collects clothing to give to the homeless."
Asked later why she does it, Leake smiled and said, "In honor of God. My grandmother inspired me to do all I do."
Ayamba Ayuk-Brown of the University of Maryland School of Nursing received the $2,000 James T. Hill Scholarship, which supports the University's commitment to staff development. Expressing "a lot of gratitude and appreciation" she plans to use the money for continuing education, especially the Intercultural Leadership certificate program starting this fall in UMB's Graduate School.
Then it was time to honor Nicholson with an oversized $1,500 check for Employee of the Year. "It's very easy at an organization this big to feel your work is insignificant," said Nicholson, who said the prize money will go in the bank toward future house repairs. "So I think it's nice to be reminded that each of us plays a role in it and a role in making this place work and we are also responsible for improving UMB in our collective roles."