Retired Sen. Barbara Mikulski, MSW '65, shared her passion for the University of Maryland School of Social Work (SSW), and advice for new social workers starting out in their careers, as she returned to her alma mater to deliver the Daniel Thursz Social Justice Lecture.
"Being here changed my life," Mikulski said during the April 2 event, "From Activism to Accomplishments: Promoting Social Justice from the Streets of Baltimore to the Halls of Congress," held in the SSW Auditorium.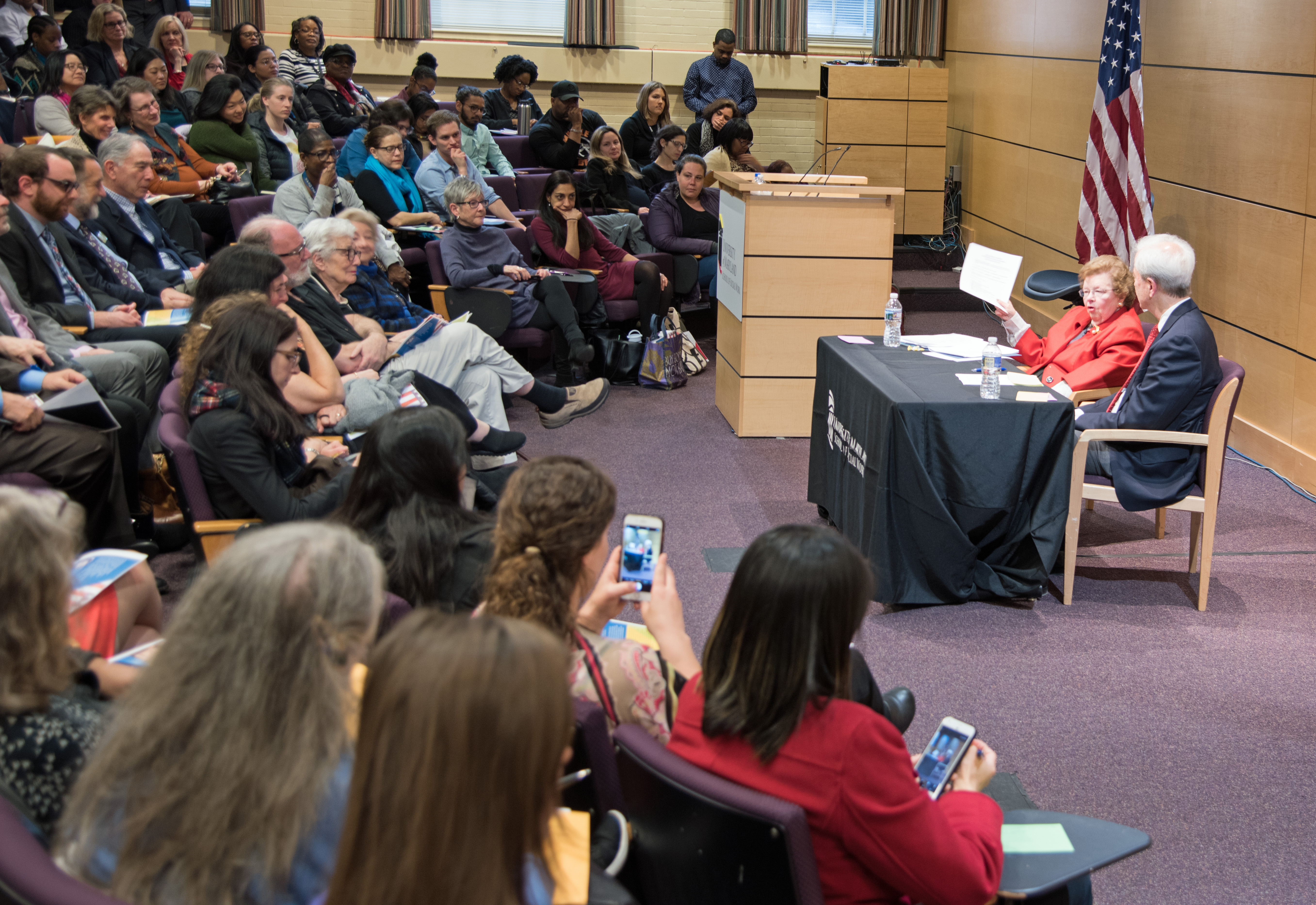 Now in its 20th year, the lecture series is named after Daniel Thursz, PhD, MSW, who died in 2000 after a multifaceted career that included serving as the school's dean from 1966 to 1976.
Thursz "would have delighted in all of the past 19 Thursz lectures that have furthered this dialogue of addressing social concerns and social justice," Dean Richard P. Barth, PhD, MSW, said in his welcoming remarks. "But perhaps none might have pleased him more than this 20th lecture, as we hear from a dear friend of Daniel's and the Thursz family, Sen. Mikulski.
"Her impact on legislation will last generations, and her exceptional tenure as the longest-serving female representative in congressional history is legendary," Barth continued. He quoted former President Barack Obama, who in 2015 awarded Mikulski the Presidential Medal of Freedom, the nation's highest civilian honor. "Her social work career in Baltimore … jump-started one of the finest public service careers we've ever seen. And for decades, Barbara has been a lion — lioness — on Capitol Hill, fighting for working families, fighting for high-tech, high-paying jobs, fighting for the prospects of America's women and girls."
It was Thursz who lured Mikulski to the school, she said. He had gotten in touch with the Baltimore native, who was working as an activist, and told her the SSW "was starting a new field called community organization, and I think it is your cup of tea. I came and it changed my life," Mikulski said. It was at her mentor's memorial service that Mikulksi's stirring remarks called for the creation of a professorship to commemorate his legacy.
Thursz influenced and shaped her career, and the two formed a strong friendship, she said. Fifty years ago, he asked Mikulski to speak at a training for social work students. She developed a document called "12 Guidelines for Community Organization, Advocacy, and Public Policy," which she presented at that training.
"I wrote these over 50 years ago and I have been using them just about every other day all of my life, ever since then," she said, holding up the document in front of the packed auditorium.
Barth also recognized Michael Reisch, PhD, the Daniel Thursz Distinguished Professor of Social Justice, who helped to organize the event and has played a role in the Thursz lecture series since it began. Reisch, who will be retiring next month, moderated the event.
"What accomplishments in your career are the greatest sources of satisfaction and pride to you?" Reisch asked.
"What I'm proud of the most is the way I've empowered people," Mikulski replied. As one of only two women in the Senate at first, she paved the way so that later, when other female senators arrived, they would feel welcome regardless of their political views.
"When more women came, I began to run power workshops," she said. "The press asked, 'Are you having a tea for the ladies?' and I said, 'No, I'm having a power workshop for the women of the Senate.' These are now dinners that have been going on for 25 years."
Mikulski also offered nuggets of advice for new social workers. For example:
Take the time to listen to people. "I believe that the best ideas come from the people, and if you listen to your people's day-to-day needs, it's not about getting to work on the macro issues, it is the macaroni-and-cheese issues," those things that are important to everyday people, that matter.
Meet people where they are. Don't ask them to be something they're not.
Follow the Marine mindset. "The Marines have a saying: 'Be best at what you're best at and be best at what you're needed for.' Get involved with a candidate you believe in, a cause you believe in, or a nonprofit you need to support. Don't be sidelined with this tweet, or this new group or whatever."
"Don't give up and don't give in. Show up, stand up, and speak up."
"Be clear on your objective. You never know who you are going to impact."
"One of the things we were taught as social workers, in addition to meeting people where they were and that all people are worthy of respect, is judge not."
Introverts should not be deterred when it comes to making a difference and fighting to correct injustices. "You don't have to be knocking on the door or running the phone bank. You can participate. You might not be the person who marches, but you might be the person who organizes the march."
Corey Shdaimah, LLM, PhD, professor and academic coordinator for the MSW/JD Dual Degree Program, one of many who filled the auditorium, said Mikulski's message was an important one.
"Sen. Mikulski's message is one that social work students, faculty, and scholars need to hear," she said. "Social change can happen, but it takes time and hard work and we are obligated and have the skills to get into whatever advocacy arena we have access to and do our best."