Retired Sen. Barbara A. Mikulski, MSW '65, was 7 years old when she hit the streets of her Highlandtown neighborhood, pulling a little red Ryder wagon as she collected newspapers for recycling to help American soldiers fighting in World War II.
"While my father was running an honest business, as a little girl I was learning that everybody could do something. I was 7 years old and I could do something," she said.
"No matter who you are or what you do, it comes back to you can make a difference, you can make change."
Mikulski recounted her early introduction to civic engagement as the keynote speaker of the University System of Maryland (USM) Langenberg Lecture and Symposium "Civic Education, Civic Engagement and Civic Responsibility: Foundation of a Democratic Society" April 10 at the Southern Management Corporation Campus Center at the University of Maryland, Baltimore (UMB). She was joined on the dais by Margaret Johnson, JD, a law professor at the University of Baltimore. (View a photo gallery.)
The Langenberg Lecture, named in honor of Chancellor Emeritus Donald N. Langenberg, PhD, invites nationally recognized education leaders to speak on a broad range of issues within the field of education. Speakers are selected based on whether they share Langenberg's perspective that calls upon higher education to see itself as part of a larger, integrated whole. Each annual lecture is hosted by a different USM institution and is open to the public, while also offering specialized seminars for students and faculty. The Langenberg Lecture also includes the Langenberg Award, which is bestowed upon a student who has shown great promise in and commitment to a career in education. The winner receives a prize of $2,000.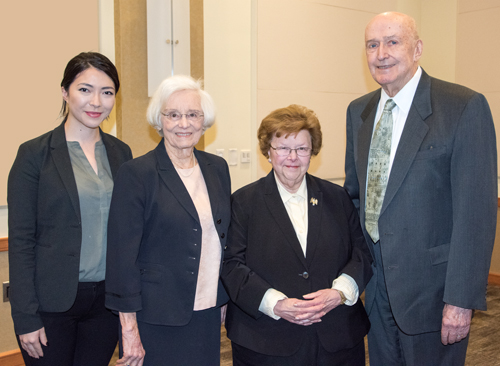 This year, the award was bestowed upon Linda S. Morris, a third-year student at the University of Maryland Francis King Carey School of Law. Morris was described as a public service leader through her initiative, commitment, and interest in making a difference as a civil rights attorney, particularly in the areas of racial equality and criminal justice.
In her first year of law school, Morris took on a leadership role in the Maryland Public Interest Law Project, a student-run organization focused on increasing awareness of and participation in public service legal work. She has worked with other law students to raise funds to provide public interest summer grants each summer for 28 public service law students. In addition, she currently serves as a legal extern for the NAACP Legal Defense and Educational Fund.
For the past two years, she has worked with students at Mergenthaler Vocational-Technical High School in Baltimore as a volunteer mock-trial coach and as a teacher's assistant with the Community Law in Action's Law and Leadership Academy.
"Ms. Morris is doing a fantastic job and we are so proud of her and what she is doing," Mikulski told the audience, motioning to Morris in the front row. "She is working through the NAACP Legal Defense and Educational Fund. What a wonderful organization and what a proud legacy in their own estate. When you're trying to make a change all by yourself, in certain parts of our country, you can get your head bashed in, even today. But if you work through a group that's also going to bring in the lawyers, look at what a difference it makes, so hat's off to you."
UMB President Jay A. Perman, MD, kicked off the morning with welcoming remarks, calling Mikulski the University of Maryland School of Social Work's "most distinguished and influential alumna – someone whose life and career define engaged and civic citizenship."
"It's a great pleasure to welcome you home," he said.
Perman said the timing of the symposium was beneficial as the nation learns to adapt to a new president.
"If I had to name one silver lining in our deeply divisive and polarizing presidential campaign – and in the national antagonisms that set in motion – I would point to the fact that these divisions and disappointments have enticed many to civic engagement, in a very powerful way," he said. "We are now building a generation of public servants, community leaders, and informed and energized voters."
Mikulski echoed Perman's sentiments about the election mobilizing a new generation of civic-minded citizens but added they often lack direction.
"What I'm finding today is that there's never been a greater interest in how people can make a difference and out of the turmoil and tumult of the past election, and even the aftershocks of that election, people want to make a difference, but they don't know how," she said. "They don't know how to go from outcry to outcome, how to go from protest to policy and to program. The kids don't know it and the adults don't know how to tell them and give them guidance on how to do it."
It was during the civil rights movement, Mikulski said, where the country "learned very clearly, from outcry there has to be an outcome. Part of that was you had to be clear on what was the objective you sought."
The easiest and most effective way one can make a difference is by organizing with like-minded individuals, she added.
"If there isn't an organization, create one," she said. In the late 1960s when she fought against a federal highway expansion in Fells Point, she was one of a handful of people who formed the Southeast Council Against the Road in a church community room. "We had to create the illusion of power. There were only 14 of us but we had to show there are 1400. Politicians respond to numbers, phone calls, and emails. We know numbers mean voters. You cannot underestimate the power of that."
Other dignitaries in attendance included USM Chancellor Robert Caret, PhD; Bernard Sadusky, EdD, executive director of the Maryland Association of Community Colleges; Karen Salmon, PhD, Maryland state superintendent of schools; and Tina Bjarekull, MBA, president of the Maryland Independent College and University Association; Maryland Secretary of Higher Education Jim Fielder, PhD; USM Regent Tom Slater; Freeman Hrabowski, PhD, president of the University of Maryland, Baltimore County; Sandra Kurtinitis, PhD, president of the Community College of Baltimore County; Gordon May, PhD, president of Baltimore City Community College; Dianna Phillips, PhD, president of Harford Community College; Kim Schtazel, PhD, president of Towson University; Kurt Schmoke, PhD, JD, president of the University of Baltimore; Maria Thompson, PhD, president of Coppin State University; and Marylou Yam, PhD, of Notre Dame of Maryland University.