The Saturday, April 22, 2017, edition of The Baltimore Sun included an op-ed co-authored by UMB President Jay A. Perman, MD, and UMBC President Freeman Hrabowski III, PhD, supporting the role of science and the scientific method in our society. The letter's publication coincided with the March for Science in Washington, D.C., and similar marches around the world.
The Baltimore Sun, April 22, 2017
In Defense of Science
Jay A. Perman, Freeman Hrabowski III
Hundreds of thousands of people are expected to march in Washington, D.C., today to celebrate and defend science — at a time when many believe that science does, in fact, need defending.
President Trump's budget proposal cuts 31 percent from the Environmental Protection Agency, slashes the Department of Energy's basic science research program and zeroes out a program that supports early-stage research into technologies that can reduce our national dependence on fossil fuels. The National Institutes of Health (NIH), which spends $32 billion a year on biomedical research — most of which is undertaken in labs at universities and medical schools across the nation — would see a 20 percent cut, bringing the agency's budget to its lowest level in 15 years. Beyond science, the president's proposed budget also eliminates the National Endowment for the Arts and the National Endowment for the Humanities.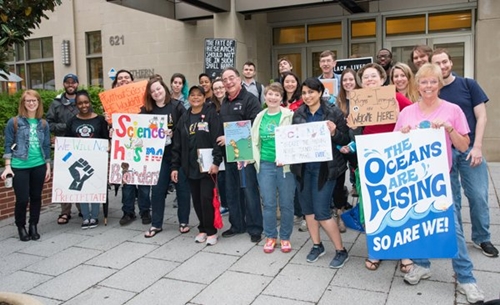 The attack on science comes not only in the form of draconian budget cuts, but also in ways that politicize science and intimidate some who undertake it. The administration has issued gag orders on science agencies, preventing researchers there from speaking transparently with the public and even colleagues about their work. Previously, the presidential transition team sent letters to agency heads ordering that they identify scientists working on climate research.
As the presidents of two of Maryland's vital public research universities, we stand with those who will march this weekend to defend science and the scientific method. It is the scientific method that teaches us how to ask questions, form hypotheses, and then — critically — test those hypotheses with rigorous and replicable experiments. It is this method that helps us distinguish between fact and fiction, and to make progress in fields from medicine to energy production, which impact our everyday lives.
One of us is a physician, and one a mathematician. And so we know that it is because of science that diseases that were once widespread and incurable are now — within our own lifetime — eradicated or treatable. It is because of science that we have smartphones in our pockets that connect us with each other and with a world of information instantaneously. It is because of science that we can deploy technology to protect our country against terrorism.
And this is the science that the administration's budget proposes to cut, attempting to persuade the American people that the basic research undertaken in labs across this country doesn't affect them. But it does, and powerfully. Every modern medical advancement that has saved a patient's life had its origins in the research lab. Every leap forward in making our computers faster and smaller, capable of calculations that send astronauts to space and help us better understand Earth, is achieved by researchers who appreciate the power of science.
U.S. Health and Human Services Secretary Tom Price, himself a physician, defended the administration's $7 billion cut to NIH's biomedical research budget by suggesting that these cuts would be carved out of the overhead costs that universities like ours incur in doing research. However, as any businessperson knows, this overhead is a reflection of real, essential costs, like keeping computers secure and safely disposing of chemicals used in labs. It's exactly what enables researchers to keep doing the work that saves lives, protects our country, and energizes our economy. We believe that it is precisely these kinds of efforts that many Americans want their tax dollars to support.
The University of Maryland, Baltimore and UMBC are educating the next generation of scientists, engineers, policy experts, and health care practitioners. These are the people who will one day solve the greatest challenges of clean energy and global sustainability, human health and well-being, national security, and economic opportunity. We take this responsibility to educate tomorrow's problem-solvers seriously, and we support them in their fight to preserve smart and humane science policy and investment.
Many of our students, faculty, and staff are traveling to the nation's capital on Saturday. In fact, UMBC's Meyerhoff Scholars, one of the country's largest bodies of STEM scholars and professionals of color, are an official partner in the march. We stand with them because their work matters. Science matters. Truth matters.
The gutting of research funding in the proposed federal budget does not reflect American priorities of protecting our people, advancing our national interests, and improving global cooperation. The America we know is an America strengthened by our science and our scientists. And as some seek to weaken this nation's science agenda, we remain confident that science will prevail. It always does.
Jay A. Perman and Freeman Hrabowski III
The writers are presidents of the University of Maryland, Baltimore and the University of Maryland, Baltimore County, respectively.