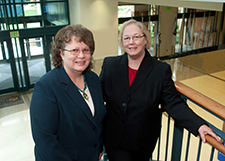 The University of Maryland School of Nursing (UMSON) and Montgomery College (MC) recently signed an agreement of dual admission that will bring a seamless transition from the Associate Degree in Nursing (ADN) program to the Bachelor of Science in Nursing (BSN) degree.
UMSON partnered with MC to design a dual admission program that will be available to nursing students this fall.

"This dual admission program is an amazing opportunity for MC's nursing students. As a community college, the student population is more diverse and is less likely to leave the community to attend a university," said Barbara Nubile, MSN, RN, associate dean and director of nursing at Montgomery College. "This seamless articulation pathway provides an option that allows Montgomery County residents to complete their Associate Degree in Nursing and then complete their baccalaureate degree, all while staying in the county."

Through the agreement, nursing students will have simultaneous admission into MC's ADN program and UMSON's BSN program while satisfying the requirements of both schools. Students enrolled in the program will receive transfer credits for completed coursework, and will be granted special student status, allowing them to take UMSON courses while still working on their associate degree. Representatives from UMSON and MC worked diligently for two years to design this pact, which has laid the foundation for similar dual admission arrangements such as the one signed by the College of Southern Maryland earlier this month.

"The work that our two institutions accomplished is indeed historic, and it is great to see that our work has paved the way for similar agreements within the state," said Rebecca Wiseman, PhD '93, RN, associate professor and chair of the University of Maryland School of Nursing at the Universities at Shady Grove in Rockville, Md. "There is work to be done, but we are excited and encouraged by the spirit of cooperation and commitment to seamless academic progression for nursing students."

Believed to be a step in the right direction for increasing qualified nursing candidates, the agreement also will help further the mission of the Institute of Medicine's (IOM) Future of Nursing Campaign for Action to advance comprehensive health care change. Specifically, it will address one of the eight goals set forth in the IOM report, The Future of Nursing: Leading Change, Advancing Health, to increase the proportion of nurses with a baccalaureate degree to 80 percent by 2020.

To matriculate to UMSON's BSN program, a student must graduate with an ADN from MC and satisfy UMSON's progression criteria.