A large number of prospective students, along with faculty, and staff from the University of Maryland, Baltimore, participated in a March 25 open house to learn about the new Master of Science in Law (MSL) degree from the University of Maryland Francis King Carey School of Law. Participants gathered at the University of Maryland, College Park, where MSL classes will meet, to learn about the new degree's five specializations: crisis management; cybersecurity; environmental law; health care law; and patent law.
The MSL is a great choice for even those students who already have a master's degree, noted Katina Rojas Joy, who has already been admitted to the program. "Every aspect of health care is predicated on law, compliance, and regulation," said
Joy, who spent 14 years working in pharmaceutical sales and three years as deputy director in the Office of Business Liaison at the U.S. Department of Commerce. "I'm at mid-career and the MSL offers me everything I need."
"I considered a law degree as an undergraduate but didn't pursue it because I had to get into the job market," said Robert Ramaya, a prospective student from Silver Spring who is interested in the environmental law specialization. Ramaya said the MSL would complement his current focus on environmental policy. "So many of the job openings I see require a master's degree," he said. "The MSL will help me fine-tune my work with policy and legal analysis."
The MSL degree program is a part-time, 30-credit, two-year, evening program intended to be completed in four semesters. It will be offered on the College Park campus starting in Fall 2015.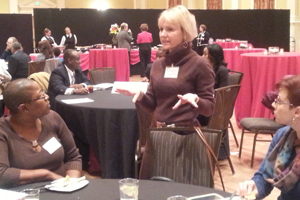 The MSL can "bridge the gap" between law and all other professions, said alumna Christina McDonald, JD '00, deputy associate general counsel for regulatory affairs at the U.S. Department of Homeland Security in Washington. "There are so many opportunities where you see law mixed with technical matters, policy development, or regulations," she told the open house crowd.
"The MSL's curriculum was developed exclusively for this degree," said Barbara Gontrum, JD, MS, associate dean for academic and administrative affairs and law school professor. "It gives students the opportunity to attend classes and seminars focused on practical knowledge and projects directly related to the challenges they will encounter in their chosen fields of specialization."
Added José Bahamonde-González, JD , associate dean for professional development, "We are delighted that so many prospective students have expressed interest in the MSL. Maryland Carey Law is the only law school in the Baltimore-Washington area to offer this unique and important degree with these five areas of specialization."
Maryland Carey Law faculty members Robert Percival, JD, MA, director of the law school's Environmental Law Program; Diane Hoffmann, JD, MS, director of the Law and Health Care Program; and Patricia Campbell, JD, LLM, MA, director of the Maryland Intellectual Property Legal Resource Center, spoke with students as did Amy Major, JD, associate director of the University of Maryland Center for Health and Homeland Security.