Providing greater access to resources and funds to help researchers generate pilot and preliminary data is a vital component of UMB's mission to remove barriers to clinical translational research that will improve the health of our Baltimore community, Maryland and the Mid-Atlantic.
PLEASE NOTE: At this time, UMB ICTR Resources and Funding restricted to Assistant Professor, Associate Professor, and Professor faculty. We strongly encourage faculty to discuss their research application plans with their supervisor/Chairman. For some applications, approval of the Chairperson is required to apply, such as career development awards or foundation applications.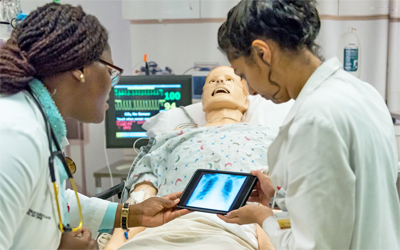 Students collaborate over a high-fidelity, simulated patient as part of research funded by the Center for Interprofessional Education's Seed Grant Program.