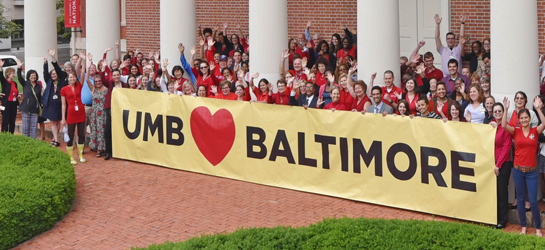 Due to the tremendous support from the University of Maryland, Baltimore (UMB) campus leadership and the University of Maryland Medical System (UMMS), UMB has its first, Universitywide administrative hub for clinical and translational research, servicing all campus professional schools and the community. This support will propel us forward as we reach across the city to form a partnership with Johns Hopkins University (JHU) that will, undoubtedly, accelerate advancement of clinical and translational research and discovery across Maryland and beyond.
UMB ICTR FOCUS:
Identifying new resources, infrastructure, and partnerships, and pairing them with existing campus resources to provide an environment that enables innovation and synergy among multidisciplinary research teams and networks,
Providing resources, including expert support staff, methods, infrastructure, and financial support to translational researchers and advising them on "next steps",
Training and mentoring the next generation of diverse clinical and translational scientists, and
Building and strengthening partnerships throughout the community - including the urban and rural underserved - through trust and respect for mutual benefit and engaging the community in identifying and prioritizing research needs.
From the UMB ICTR Director, Dr. Stephen Davis
‌
Welcome to the UMB ICTR website. The UMB ICTR website allows the opportunity to access the exceptional quality of shared resources available across our campus. The UMB ICTR is committed to bringing together the Schools of Dentistry, Medicine, Nursing, Law, Social Work and Pharmacy scientists and professionals to develop the best strategies for rapidly delivering these resources to our research community. The primary goals of the UMB ICTR are ...