Barbara Resnick, PhD, RN, CRNP, FAAN, FAANP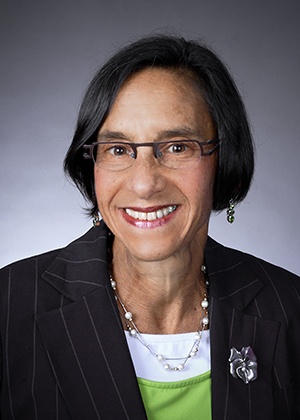 Barbara Resnick, PhD, RN, CRNP, FAAN, FAANP, is a professor in the Department of Organizational Systems and Adult Health at the University of Maryland School of Nursing (UMSON) and holds the Sonya Ziporkin Gershowitz Chair in Gerontology. She teaches in the Adult Gerontological Nurse Practitioner Program and co-directs the Biology and Behavior Across the Lifespan Organized Research Center. The center promotes the conduct of interdisciplinary research related to the influence of biology and behavior on health and human outcomes. In addition to her teaching and research, Resnick continues to practice as a certified gerontological nurse practitioner in a continuing care retirement community. She is recognized for applying the perspective gained through clinical practice to her pursuit of significant research questions.
Resnick's research program focuses on optimizing function and physical activity among older adults, exploring the impact of resilience and genetics on function and physical activity, and testing the dissemination and implementation of interventions in real world settings, including nursing homes and assisted living facilities. Through her research, she has demonstrated that Function Focused Care can help residents in institutional settings maintain or improve function and physical activity; her findings have provided guidance for revisions to the Centers for Medicare & Medicaid Services' quality indicators related to activities of daily living and changes in resident function. Her work is widely acknowledged to have contributed to major changes in the underlying philosophy of care for older adults across all settings, including individuals with Alzheimer's disease and related dementias, and through this, to have improved the health and well-being of older adults.
Resnick's research has been funded multiple times by the National Institutes of Health (NIH), as well as by the Agency for Health Care Quality and numerous foundations, including the Leonard and Helen R. Stulman Charitable Foundation and the Robert Wood Johnson Foundation. She has authored over 250 published articles, over 55 chapters in nursing and medical textbooks, and books on restorative care and resilience; she is a frequent presenter nationally and internationally on her work. For the past 15 years, she has served as the editor of Geriatric Nursing and also serves as an associate editor and on the editorial board of numerous journals.
Resnick has held leadership positions in multiple aging and interdisciplinary organizations. She is a past president of the American Geriatrics Society, the Gerontological Society of America, and the Gerontological Advanced Practice Nurses Association. She has been recognized with multiple national awards, including the 2019 M. Powell Lawton Award given by the Gerontological Society of America, the 2018 Johns Hopkins Leader in Aging Award, the 2018 Loretta Ford Award from the American Academy of Nurse Practitioners, and the 2017 David H. Solomon Memorial Public Service Award from the American Geriatrics Society.
Resnick obtained her Bachelor of Science in Nursing from the University of Connecticut, her Master of Science in Nursing from the University of Pennsylvania, and her PhD from UMSON. She is a fellow of the American Academy of Nursing and of the American Association of Nurse Practitioners.